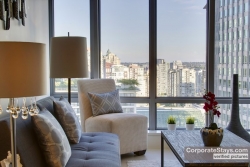 Montreal, Canada, December 07, 2012 --(
PR.com
)-- CorporateStays.com announced an exciting new partnership with the Minto Group today. The corporate housing specialist will be Minto's new services provider for furnished suites in the
Montreal
and
Vancouver
markets.
Minto is a leading real estate development, construction, and management company dedicated to creating inspired living spaces for families, businesses, and communities. Minto is also a provider of residential rentals in Ottawa, Toronto, London and Calgary as well as furnished suites in Ottawa and Toronto. When Minto was looking to expand their furnished suite services into Montreal and Vancouver, CorporateStays.com was the best fit, offering the highest quality furnished apartments and condominiums in those cities.
"David Zaltzman, GM at Minto, has been working with me to create this exciting new partnership," said Vladimir De Suarez, founder and CEO of CorporateStays.com. "Looking to expand into new Canadian cities, Minto considered CorporateStays.com to be 'best in class' in Montreal and decided to approach us to be their new services provider. We are looking forward to building on our reputation as a leading corporate housing provider with this partnership."
CorporateStays.com, which offers luxury furnished housing in major cities across the world, will be providing furnished suites, apartments, and condominiums in Montreal and Vancouver for Minto. Guests can take advantage of fully furnished living spaces, fully equipped kitchens, high-speed Internet connections, fully equipped entertainment units, and much more. CorporateStays.com additionally provides concierge services and personalized customer care services to all their guests, providing for an enjoyable and productive stay. With this new partnership, the corporate housing specialist will continue to provide quality housing solutions and personalized service to clients in Canada and around the world.
For more information, please contact:
Erika Degoute
Marketing & Communication – CorporateStays.com
marketing@corporatestays.com
+1 (514) 277-6644
CorporateStays.com specializes in executive housing, offering high-end serviced apartments to corporate clients. We maintain our industry-leading position across Canada, Latin America and emerging European destinations by providing cost-efficient solutions and ensuring a smooth transition when a temporary or permanent move is required. CorporateStays.com maximizes the guest experience by offering the most complete service options and the highest quality collections of apartment rentals in each of our regions.