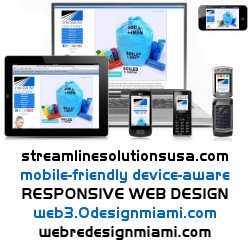 Miami, FL, December 08, 2012 --(
PR.com
)-- Streamline Solutions LLC opted out of the great device-agnostic versus device-aware
responsive web design
(RWD) debate by combining the advantages and avoiding the pratfalls of both in the front-end development of their recently launched "Web 3.0 Ready" website StreamlineSolutionsUsa.com, also accessible as SoiledLinenBags.com.
Streamline Solutions provides hospitals, healthcare facilities and commercial laundries throughout the United States and Canada with
soiled linen bags
, hamper stands and other laundry and medical supplies. In business since 1999, the first two iterations of their website long enjoyed the high search visibility afforded by semantically-optimized W3C standards-compliant web development. And with the recent launch of their third generation site, they add the broad accessibility potential of a fully responsive web design. According to Ross Sanders, Vice President of Sales and co-owner of Streamline Solutions, "The Web is going mobile and we are responding to that. The new web pages Bruce Arnold designed and developed for us are, in fact, about as 'responsive' as you can get. From flip phones to tablets to full-sized desktop monitors, the screen presentation adjusts in real time to optimize the viewer's experience."
Scripted in server-side PHP/MySQL with client-side jQuery/Javascript and rendered as W3C-validated HTML5/CSS3, the new SoiledLinenBags.com has an integrated WURFL DDR (device description repository) and leverages the best features of device-agnostic and device-aware
responsive web design
coupled with semantically-optimized front-end web development to assure both high search visibility and broad device accessibility. Mobile microbrowsers with screen resolutions below 240x320 are automatically routed to their W3C mobileOK "MiniPage" located at m.soiledlinenbags.com. Mobile browsers with screen resolutions of 240x320 or higher are routed to the full presentation but given the option to drop back to the MiniPage. For all web browser screen widths of 240 pixels or above, the Streamline Solutions presentation - including text, images and animations - automatically expands, contracts and adjusts horizontally, vertically and in real time up to a parameter-modifiable maximum of 1300 pixels and is screen-centered beyond that. This assures an ideal presentation for virtually anyone using popular desktop and notebook browsers like Chrome or Firefox as well as tablet and smartphone browsers like Opera Mobile for Android devices or Mobile Safari for iPad/iPhone. Zoom is enabled by default for Mobile Web browsers, but for mobile devices with glitchy zoom capabilities like the original iPad a footer link is provided to disable it.
"Streamline Solutions has a reputation of being one of the most flexible and responsive laundry supply companies in North America," observed Miami web design veteran Bruce Arnold, "and Web3.0DesignMiami.com and WebReDesignMiami.com worked very hard to develop a design for them that projects those admirable qualities."
About StreamlineSolutionsUsa.com a.k.a. SoiledLinenBags.com
Streamline Solutions has been providing hospitals, healthcare facilities and other commercial laundries throughout the United States and Canada with recyclable soiled linen bags, hamper stands, disposable plastic waste can liners, cart covers and wraps, infectious waste bags, medical supplies and a wide range of quality, cost-effective product solutions since 1999. Through custom printing, soiled linen and hamper stand, plastic recycling and facility needs analysis programs they create win/win partnerships with a growing base of satisfied customers from coast to coast. To learn more logon to their mobile-friendly and fully-responsive website SoiledLinenBags.com. For questions or quotes call Streamline Solutions at 866-244-7700 or 561-350-4995.
About Web3.0DesignMiami.com and WebReDesignMiami.com
Miami web designer and Mobile Web developer Bruce Arnold's WebReDesignMiami.com (305-597-8340) and Web3.0DesignMiami.com (786-838-0851) form a responsive web design (#RWD) and Semantic Web development boutique that defines success on the Web as high visibility plus broad accessibility. Their HTML5/CSS3 websites are custom handcoded or WordPress PHP/MySQL with unobtrusive Javascript and jQuery, and pass 9 tests of Web 3.0 Readiness as to content, format, behavior, accessibility, semantics, syndication, links, internationalization and mobile-friendliness. Maximum web marketing ROI is assured by a PervasivePersuasion.com (786-326-8079) methodology that encompasses both search and social media marketing. Para ayuda en espanglish llame al 305-517-3851.