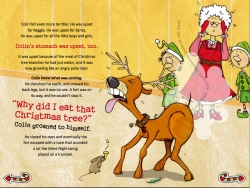 Brisbane, Australia, December 12, 2012 --(
PR.com
)-- It's beginning to smell a lot like Christmas for Australian publisher Rocket Footy Pty Ltd, thanks to a new app for kids called Colin the Reindeer and the Fart That Saved Christmas.
Colin the Reindeer and the Fart That Saved Christmas is a laugh-out-loud-funny interactive ebook that will bring festive, and slightly flatulent, cheer to your iPad's app collection this Christmas.
The app represents new ground for Rocket Footy, which has been a more mainstream publisher to date with its series of kids sports-based fiction novels aimed at tweens and young teens.
Written and illustrated by Australian pair Michael Westlake and Rebel Challenger, and developed by Diggy Australia, Colin the Reindeer and the Fart That Saved Christmas is a heart-warming – and possibly global warming – story of a friendly reindeer who dreams of making Santa's sleigh team for the Christmas Eve delivery run.
The problem is, Colin isn't very good. On top of that, the other reindeer don't want to be in the team with our hero because he suffers from a slightly embarrassing problem – he likes eating Christmas trees, which make him break wind uncontrollably.
But when the weather turns nasty one Christmas Eve, Santa is worried that he won't be able to deliver presents to all the boys and girls around the world – until Colin and his "special talent" step up to save the day.
A charming and funny story for Christmas, Colin the Reindeer and the Fart That Saved Christmas is an interactive story – readers can touch characters and scenes to activate sounds and animations to help bring the ebook tale to life.
It is a beautifully-illustrated story that also carries messages for children about the importance of being yourself, never giving up, friendship, self-belief and the power of the Christmas spirit.
The Colin the Reindeer and the Fart That Saved Christmas app features options for "Read by Myself" and "Read to Me," which is the fully narrated version, as well as beautiful illustrations and animations, interactive scenes and hilarious sound effects.
There is also a bonus digital colouring-in book to keep the kids occupied over the holidays.
The new app is a collaboration between old and new publishing, with Rocket Footy bringing skills from the more traditional end of story-building and illustrating, while new partners Diggy brought the technical expertise needed to take a story off a page and bring it to life in an app.
Colin the Reindeer represents the first chapter in a new working relationship between the two companies, with a number of new projects already in the pipeline and two new apps slated for release in 2013.
Mr. Westlake and Ms. Challenger have worked together for many years at one of Australia's biggest newspapers – The Courier-Mail in Brisbane – and decided to put their energies together to come up with a bit of festive fun for Christmas.
Mr. Westlake said watching Colin's evolution from scribbled notes to interactive ebook had been an eye- opening experience.
"It is completely mind-blowing to see the story come to life on the iPad considering Colin's humble beginnings," Mr. Westlake said. "I wrote the initial story as a joke for one of my nephews, and I didn't expect it to go any further.
"But when I was looking for Christmas app's for my daughter's iPad, it struck me there weren't that many Christmas stories for kids that had a bit of fun about them.
"There were plenty of traditional classics, of course, but not many that just had a bit of silliness and a sense of humour about them. And so the snowball of Colin started to roll."
In January, Mr. Westlake approached his friend and colleague Ms. Challenger, a talented graphic artist, about whether she would be interested in illustrating the tale of the world's most unfortunate reindeer.
"Rebel and I have a really good rapport and working relationship," Mr. Westlake said.
"Essentially, I come up with a concept that is a little left-field, give her some silly words for a headline, and she turns it into a work of art. The brief for Colin the Reindeer and the Fart That Saved Christmas was essentially the same."
As soon as Ms. Challenger had finished her first rough proofs for the story, they knew they were on a winner.
"It was nothing at all like I had envisaged – my mental picture of what the book would look like was just so pedestrian by comparison," Mr. Westlake said.
"The pictures were unbelievable, and laugh-out-loud funny. It probably sounds odd when talking about a book based on fart gags, but the subtlety of the work was brilliant.
"Some of the pictures make you burst out laughing, but then you turn a page and the next one is heart-warming in its charm.
"It is the skill of artists that the are able to extract such emotions from a few simple lines in the right places."
Colin the Reindeer and the Fart That Saved Christmas is compatible with iPad, and is available now through the Apple iTunes App Store.
You can find it by clicking here:
goo.gl/MT6aa
There is also a promo video on You Tube, which is a parody of The Dark Knight movies, which you can watch here:
goo.gl/WR9Qk
, and you can follow Colin on Twitter @fartycolin.