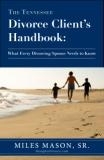 Memphis, TN, December 13, 2012 --(
PR.com
)--
The Tennessee Divorce Client's Handbook: What Every Divorcing Spouse Needs to Know
is now available on Amazon.com and Kindle.
The Tennessee Divorce Client's Handbook, authored by Memphis divorce attorney Miles Mason, Sr., offers practical advice to individuals considering the possibility of divorce. This advice covers a wide variety of topics, such as what steps should be taken first, changing bank accounts, hiring a divorce team, and mediation do's and don'ts. It also covers Tennessee-specific laws on child support, alimony, custody and parenting plans, and property division. Additionally, The Tennessee Divorce Client's Handbook explains divorce strategy basics, like how courts view dating during separation, mining social media for evidence, and avoiding electronic snooping.
Miles Mason, Sr., JD, CPA, practices family law exclusively in Memphis, Tennessee, with his firm, Miles Mason Family Law Group, PLC. He is also the author of The Forensic Accounting Deskbook, published by the American Bar Association in 2011. Mr. Mason is a member of the American, Tennessee, and Memphis Bar Associations' Family Law Sections, American Institute of Certified Public Accountants (AICPA), and Tennessee Society of CPA's. He serves the ABA Family Law Section as Liaison to the AICPA and is past chair of the Tennessee Bar Association Family Law Section. Please see
MemphisDivorce.com
for more information about his firm.
Lisa Angel, a family law attorney with the Rosen Law Firm in Raleigh, North Carolina, says, "Miles Mason will tell you his book 'includes the basics of what every person going through a divorce in Tennessee really needs to know,' and I heartily agree, being a divorce attorney myself. It's a must-read for someone going through the changes divorce can cause."
Jeff Fioranelli, a former client says, "Miles makes the complicated simple. Reading The Tennessee Divorce Client's Handbook helped me ask smarter questions in my divorce."