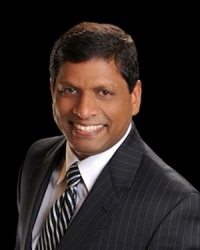 Allen, TX, December 18, 2012 --(
PR.com
)-- Thinking of moving to Texas? There has never been a better time, as mortgage rates are at a record low. Areas such as Frisco, Allen and Lucas are great places to live, and Rajan Mathai, an experienced real estate agent in Collin County, can help you find a place to call your own. Mr. Mathai is extremely knowledgeable, hard working, responsive and attentive to your needs – whether you're buying or selling, he can help. Rajan's website is located at
http://www.collincountytxrealtor.com
.
About Rajan Mathai
Are you interested in purchasing a home in Frisco, Allen or Lucas, Texas? Or do you need an experienced Collin County real estate agent to help you sell your existing home? Rajan Mathai can help.
If you are considering a move to Collin County, Rajan has many years of experience as a realtor in Texas and can help you choose where to live. Frisco, Allen and Lucas are some of his favorites: "These are quiet and peaceful towns with a proud Texas heritage and a southern quality," states Rajan's website. He prides himself in knowing quite a bit about each city in Collin County, and explains: "Allen is only twenty-four miles from Dallas and offers a wide array of activities for new residents to take part in, ranging from shopping to fine dining to water sports. Those who want to live near a big city like Dallas but want a more relaxed and quieter living experience, with less traffic and noise, should consider the town of Frisco. For those who prefer a more country flavor, Lucas is the town for you, where trails, parks and wide open spaces are a common sight."
Mathai takes pride in each town; each would make a fine place to call home: "These towns in Collin County are a great place to live for those who enjoy a peaceful experience." Rajan knows his way around north Texas and can help you find exactly the right area and home to call your own.
Rajan Mathai was awarded the Realtor of the Year 2010 DFW by Hot-On-Homes, has years of experience in the real estate industry and will give you his honest opinion and provide you with the information you need to know. His knowledge, experience and honesty have earned him high esteem among both colleagues and past clients. Don't get lost in all the options – let Mathai help you find the home of your dreams.
To find out more about how Rajan Mathai can help you buy or sell your home, give him a free call at 214-649-5086, or visit his website at www.collincountytxrealtor.com.