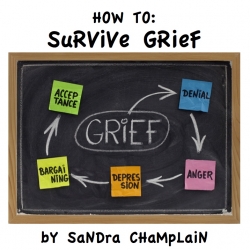 Newtown, CT, December 14, 2012 --(
PR.com
)-- Today is a horrific day for those involved with the shooting at the Sandy Hook elementary school. Close to the holidays, many are overcome by the severe pain of grief caused by this event.
Connecticut business owner, Sandra Champlain, knows grief. She is the author of "How to Survive Grief" and the newly published book, "We Don't Die - A Skeptic's Discovery of Life After Death" that discusses grief in great detail.
"In our culture, we are not taught about grief. When an event happens like the shooting today in Newtown, we are not prepared for it, nor do we know how to handle the resulting emotions," Champlain says. "Grief is the most painful emotion known to mankind, and without education, can cause breakup of families and worse yet, cause people to commit suicide."
According to Champlain, over 1 million people worldwide commit suicide and forty to fifty percent of relationships end after a death occurs. "When a loss occurs, we have a drastic reduction of the neurotransmitter, called serotonin, in our brain. Without serotonin, we do not have proper brain function. We often lose our memory, our perception and what seems like the truth may not be. Serotonin is also our 'feel good' neurotransmitter. Without it, anger, rage, depression and severe sadness occurs."
Sandra Champlain continues, "People don't understand grief. Our brains grieve as a survival mechanism anytime we suffer a profound loss. Today, the family members and friends of those involved with the elementary school shooting, along with the millions of us who may be watching it on television, will begin to grieve. Those who suffer the greatest loss will be impacted the worst," Champlain states.
"Those who have grieved know the impact on the body and mind. We go into shock. We may feel in disbelief to the horror that has just happened. Anger is very high and often directed at ourselves and others. Guilt and recalling the scene over and over become part of our every waking hour. Depression and severe sadness take over. There are so many other characteristics of grief and it's important to understand them to help ease the pain and help people continue with their lives."
Sandra Champlain is generously giving her 70 minute audio "How to Survive Grief" and her book "We Don't Die" to anyone impacted by this event. If you or someone you know would like a copy of them, please visit:
http://www.wedontdie.com/newtown.html