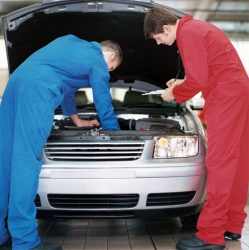 Kaysville, UT, December 15, 2012 --(
PR.com
)-- Davis County has chosen to contract with Worldwide Environmental Products, Inc. (WEP) to provide inspection services to Davis County motorists at the Vehicle Emissions Testing Center in Kaysville. County commissioners debated several options to provide the additional inspection services and unanimously decided that WEP offered the most valuable solution.
With the specter of having to close the Testing Center for good, County commissioners approached WEP about assuming responsibility for the Testing Center operations. The transfer of services enabled WEP to hire back some of the technicians who previously lost their jobs due to the County's decision to close the facility.
The new center services include inspector training, inspections for non-OBD diesel vehicles, vehicle waiver services and referee services, which allow motorists to challenge a test result if their vehicle fails an inspection at a private inspection center. WEP will streamline the center operations and is currently building an online appointment scheduler, due to go live in 2013, which will allow motorists to schedule their inspection date and time, and improve turnaround times. WEP will not perform initial, periodic inspections at the Testing Center.
"It is one of our core missions to provide solutions that foster local businesses and stimulate the local economy," said WEP Vice President Garrett Delaney, "We do not believe that directly competing with local, automotive businesses is in the best interest of the Davis County business community or the County's objectives."
Subsequently, all heavy duty (above 14,000 lbs GVWR) diesel powered vehicles, 2007 and older model year diesel powered vehicles that are between 8501 – 14,000 lbs GVWR, as well as 1995 and older diesel powered, light duty (below 8501 lbs GVWR) vehicles will still be tested at the Vehicle Emissions Testing Center. All other vehicles will be tested at private inspection facilities.
The Davis County Vehicle Emissions Testing Center is located at 20 North 520 West in Kaysville, off the W 200 N exit (Exit 328) of I-15.