Annapolis, MD Stager Recognized as ASP Stager of the Year
Barb Perez, Owner and Lead Design Stylist of Wall to Wall Home Staging in Annapolis, Maryland, was recently recognized as ASP Stager of the Year by industry leaders.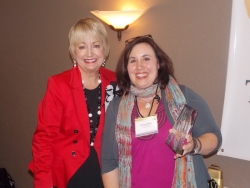 Annapolis, MD, December 19, 2012 --(
PR.com
)-- Barb Schwarz, The Creator of Home Staging®, CEO of StagedHomes.com® and founder and chairwoman of the International Association of Home Staging Professionals®, recently recognized Barb Perez as ASP Stager of the Year (East Coast) during the annual IAHSP conference.
Barb Perez is the Owner and Lead Design Stylist for Wall to Wall Home Staging LLC located in Annapolis Maryland. Wall to Wall Home Staging provides premium, full service home staging, furniture rental, and home re-design services throughout central Maryland. Barb founded the company over three years ago based in a desire to help others achieve their real estate goals by using her talents and creativity for decorating and design. When founding the company, Barb chose to partner with the founder of the Home Staging® industry, Barb Schwartz, by training with StagedHomes.com® to be certified as an Accredited Staging Professional (ASP). The ASP® program is recognized by the National Association of Realtors® and has been training the art of home staging since 1972.
Barb and her staff recently attended the IAHSP conference held in Whidbey Island, Washington. The conference brings together the leaders in the home staging industry and provides and opportunity to learn the latest staging techniques and real estate industry trends.
During the conference, in addition to receiving the award, Barb completed two specialty certifications. Barb achieved the qualifications for ASP Real Estate Owned, focusing on bank and investor owned properties, and ASP Senior Relocation Specialist, focusing on the unique situations of seniors who are selling their homes. Wall to Wall Home Staging was also recognized as an IAHSP® Premier company by proving that it adheres to the IAHSP® Code of Ethics, provides continuing education, maintains appropriate insurance, and is financially stable.
When asked about receiving the award Barb said, "Since beginning my business, I have worked very hard at perfecting my craft and ensuring that my clients are satisfied and believe they made the right choice in deciding to stage their house. As other small business owners know, there are many challenges that come with having your own business, so it was a tremendous honor to be recognized by the International Association of Home Staging Professionals and StagedHomes.com for my dedication, commitment and skill in the field of Home Staging."
In recognizing Barb, Schwatz said, "Congratulations again for winning the "Stager of the Year" award for the East Coast at our 2012 ASP® Educational Conference. At each conference we recognize those Stagers who are not only successful, but who demonstrate professionalism, a high level of Staging skills, great service to their clients, and the spirit and enthusiasm to help others. You exemplify those traits! I know that you will continue to help home owners with your great service."
For more information, please contact Barb Perez of Wall to Wall Home Staging at (888) 63-STAGE or
http://www.walltowallhomestaging.com
Contact
Wall to Wall Home Staging LLC
Barb Perez
888-637-8243
www.walltowallhomestaging.com

Contact