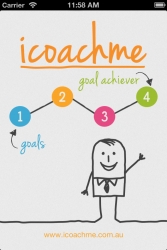 Cairns, Australia, December 27, 2012 --(
PR.com
)-- You can find iCoachme in the appstore:
itunes.apple.com/au/app/id583734676
In time for the annual goal setting season of New Year Resolutions, iCoachMe app is a fun and effective coaching session to keep you on track with your goals.
iCoachMe is a completely new approach to coaching and self development. iCoachMe turns your iPhone / iPad into an affordable, on demand, personal achievement coach.
We all need a coach
Coaching has experienced explosive growth over recent years because people who work with a coach achieve great results. Just as professional athletes use coaching get to the top of their game, iCoachMe can bring out the goal achiever in all of us.
Whatever the goal, iCoachMe will support you to take charge of your life and become a goal achiever. Goals such as health and fitness, improved relationships, problem solving, work/ life balance, career change / development and planning for important projects can all be coached with this app.
About the iCoachMe App
This interactive app introduces powerful coaching questions to take you through a playful 4 step professional coaching session. 1) starts with you refining your goal 2) works through the challenges and obstacles keeping you from your goal or desired outcome 3) taps you into all the options you have available to achieve your goal and 4) gets you committed to achieving the results you want.
iCoachMe has a launch discount of $0.99.The app is available world wide and is suitable for iOS 5 devices.
About iCoachMe
www.icoachme.com.au
Created by professionally accredited Executive Coach, Andrea Tunjic in response to growing demand for flexible and affordable coaching – "iCoachMe gives people the immediate experience taking positive action towards their goals, helps them to commit to a coaching plan and encourages commitment to goals through an online community. iCoachMe is the most flexible and affordable way to experience professional coaching support. One on One coaching is also available through www.icoachme.com.au"