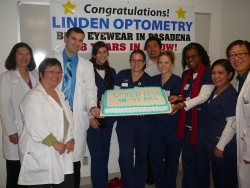 Pasadena, CA, December 28, 2012 --(
PR.com
)-- A celebration luncheon was held at Linden Optometry's headquarters in Pasadena on Thursday, December 27, 2012, to thank all of the employees for helping the company win yet another award. Linden Optometry was voted "Best Eyewear in Pasadena - 2012" in The Pasadena Weekly Readers' Poll last month. This is the 18th year in a row that Linden Optometry has received this prestigious recognition.
"We realize that a company is only as good as it's employees," said Alan Limfat OD, President of Linden Optometry. "We are lucky to have some of the most caring and resourceful eyecare professionals in the industry working in our organization. I would like to personally thank each and every one of our staff members who worked so hard this year to make this award possible. Being recognized as the purveyor of the 'Best Eyewear in Pasadena' should make all of our employees proud."
"And of course, we owe a debt of gratitude to the people who live and work in this neighborhood. Without their votes year after year, we could not have won this award. We want all of our patients to know that we will continue working hard to earn your business, and your votes. In the next few months you will see several more designer eyewear lines added to our showroom of 10,000 Eyeglass Frames."
The luncheon was attended by over 50 employees, including Optometrists, Opticians, Optical Lab Technicians, Contact Lens Technicians, Receptionists, and many more.
http://www.lindenoptometry.com