Majority of Consumers Rarely Delete Passbook Mobile Coupons, Survey
Passbook coupon distributor Passjoy releases statistics showing that 56% of users leave coupons in their online wallet for months. This shows how "Permanent Coupons" are the future of Passbook, and a high-tech way to make coupons easier and less hassle for consumers.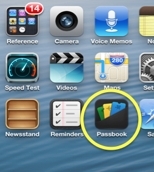 Dublin, CA, January 21, 2013 --(
PR.com
)-- Gone are the days of paper coupons and Sunday afternoons spent clipping and organizing stacks of retail bargain bounties. And with the arrival of Apple's virtual wallet Passbook, paper coupons may someday become obsolete. But regardless of type, all coupons are set to expire... until now. PassJoy, a popular distributor of Passbook coupons, proposed the following question: Why not consider coupons that never expire?
The eternal or "permanent coupon" proposal is based on a recent PassJoy survey that found 56 percent of consumers keep mobile coupons in their online wallets for months or even years. These undeleted coupons might starting cluttering online wallets, frustrating consumers. The solution is simple: make them self-refreshing.
"This is a huge opportunity for retailers," said PassJoy company spokesperson Jim Bonner. "Instead of distributing large quantities of low-grade coupons on a continuous basis, retailers could distribute high-value coupons that automatically refresh with new offers."
According to Bonner, Passjoy's "2nd generation" pass management engine provides the backend power to maintain these permanent coupons, keeping them fresh with new branding and replacing them intelligently based on customer preferences.
Mobile coupons have gained widespread popularity in recent years, with Apple releasing its Passbook—a virtual application designed to store coupons, boarding passes, tickets, and other forms of mobile payment—along with iOS 6 on September 19, 2012. Passes are delivered to iPhone or iPod Touch users electronically and can be exchanged for a financial discount or rebate when purchasing a retailer's product or service.
Rather than discarding redeemed mobile passes, the majority of users store them indefinitely. "Eventually there will be millions of leftover passes," Bonner adds. "Effectively, coupons are no longer disposable; they're actually long-term marketing opportunities."
For Demo:
For a demonstration visit
http://www.passjoy.com/demo1.html
Visit with an iPhone to download a demonstration pass and follow along.
About PassJoy.com:
Currently in public beta, PassJoy, a distributor of Passbook coupons, is testing experimental coupon technology to help retailers better understand and leverage the Apple Passbook platform. For the latest PassJoy news and updates, visit the company website (http://www.passjoy.com/) and follow PassJoy on Twitter (https://twitter.com/Passjoy).
Contact
Passjoy
Jim Bonner
(650) 539-8950
passjoy.com

Contact