HubShout Announces Winners of 2012 Online Marketing Scholarship
Three outstanding students selected from a pool of impressive candidates.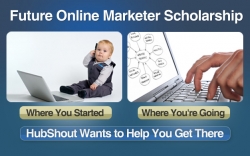 Falls Church, VA, January 18, 2013 --(
PR.com
)-- HubShout, a full service online marketing firm, SEO reseller and
website reseller
, launched its "Internet Marketers of the Future" scholarship program in July 2012. The scholarship is designed to support students who are interested in the SEO reseller field or are working toward a career in online marketing.
HubShout was impressed by the caliber of applicants, but three individuals stood above the others due to their well-defined career goals and ability to demonstrate a strong interest in online marketing.
Michael Minnock is a senior at Duquesne University and majoring in Integrated Marketing Communication. Michael's GPA, marketing internships, social media marketing experience and community service gave him high marks. An administrator at Duquesne remarked, "Mike is a great student and very well deserving of the scholarship. What a nice surprise to see one of our students win this for the semester!"
Andre Sadler is a senior at Syracuse University and working on a dual major in marketing and finance. Andre's campus activities, volunteer work and impressive resume of internships demonstrate his online marketing aspirations and leadership skills. He has his sights set on a sports marketing career.
Giovanni Holmquist is a junior at the State University of New York, Albany. His dual major of business administration, with a concentration on marketing management, and political science plus the initiative he showed in developing and managing online marketing campaigns for a small business prove that Giovanni has a passion for online marketing. Giovanni is the VP of Finance for the UAlbany Chapter of the American Marketing Association.
The success of the SEO reseller program inspired HubShout executives to give back to the community via the HubShout scholarship. In 2008, Chad Hill, CEO and Adam Stetzer, Ph.D., President, co-founded HubShout and operated out of a small office in Arlington, VA. In 2009, HubShout launched its SEO reseller program, offering white label SEO and other online marketing services. The rapid growth of the SEO reseller program necessitated an increase in staffing and larger office space. The business moved to Falls Church, VA and subsequently opened a second office in Rochester NY. In 2012, HubShout added a website reseller program.
The SEO reseller program continues to prosper and the team of HubShout account managers has grown to support SEO resellers with sales and training. Through the HubShout SEO reseller program, SEO professionals, web developers, graphic designers, ad agencies, website resellers and the like are able to offer a full package of white label SEO and online marketing services to their clients. The Hubshout dashboard ensures both transparency and accountability to all SEO reseller clients. The website reseller program adds yet another dimension to the SEO reseller program.
Thanks to the growth and success of the HubShout SEO reseller and website reseller programs, HubShout will continue its scholarship in 2013. One $1,000 scholarship will be awarded in the spring semester and one in the fall. Colleges and universities that wish to offer the scholarship opportunity to their students should call 888-266-6432, x303.
HubShout is a US based SEO reseller and website reseller with a complete package of online marketing services, including SEO, PPC, Local SEO, websites, social media and email marketing. All services are available to direct clients as well. Technology based software and services are the core of HubShout's success. For more information or details about the 2013 scholarship , please contact HubShout directly.
Contact
HubShout
Ellen Gipko
888-266-6432
hubshout.com

Contact