Australia Property Seminar to be Attended by Kuala Lumpur Who's Who
A private wealth discussion and Australian Property Seminar will be held at an undisclosed Kuala Lumpur City location this Saturday 19th Jan 2013.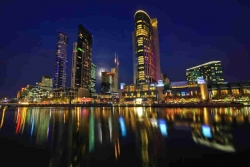 Kuala Lumpur, Malaysia, January 18, 2013 --(
PR.com
)-- The speaker and mentor list also includes property magnates, philanthropists, prominent legal and tax advisors and senior wealth executives from the banking sector. A luxury Australian residential tower direct from a developer will also be on offer.
The event committee has confirmed that over 60 noteworthy guests will be attending. The venue location will not be made public to safeguard the privacy of the high net-worth attendees with increased security measures enforce at entry to the venue.
"This event was designed for like-minded Malaysian investors to rub shoulders and listen to intelligent, informed mentors sharing market trends, opportunities and strategies," said Scott O. Talbot, guest speaker. "I am looking forward to sharing my successes and knowledge in a straight forward and bold presentation."
Philanthropist and Property Magnate Scott O. Talbot has announced today he will be handing out up to $100,000 USD to Malaysian Charities via his wealthy guests list to encourage personal and corporate giving to various charity groups.
"We [Us] are fortunate individuals and a small percentage of our wealth towards social responsibility will not only provide these elite individuals a sense of 'touching, moving and inspiring to make a difference' the beneficiaries of the gift will strive for a better quality of life," further said, Scott O. Talbot
Each elite attendee who secures a property investment this weekend will be given a challenge to accept a US$2,000 cash gift from Scott O. Talbot to encourage the wealthy individuals to be more socially responsible. The wealthy individuals will have the choice to gift the $2000 to a charitable cause of their choice.
Other Kuala Lumpur investors are invited to RSVP to attend the Sunday Jan 20th event open to the general public at the Hilton KL Sentral at
www.australianproperty.com.my
Background Scott O. Talbot
Linkedin
Contact
Australia Property Seminars - UCHK Limited
Scott O. Talbot
+61390056610
www.australianproperty.com.my
www.property.org.au
www.linkedin.com/in/scotttalbot

Contact