Gear Up for the Challenge and Spark Your Mind
"Love Gears" - an Inspiring New Gear-Simulation, Puzzle Game Now Available on the Android Market.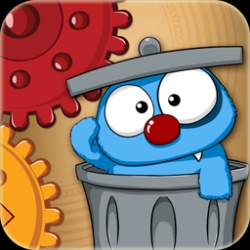 Bethesda, MD, January 21, 2013 --(
PR.com
)-- Jokerware LLC has recently launched a new game for Android devices; "Love Gears" is a unique gear-simulation puzzle game designed to be amazingly challenging and addictively fun with its 54 different levels, colorful graphics and funny characters.
"Love Gears" shows the story of three little monsters who wonder how their parents met; the main mission is to solve the puzzle by reconnecting gears in order to hitch monster mom with monster dad and eventually show these little monsters the true adventure behind their creation.
Gears in the game rotate in two directions: clockwise and counterclockwise; this special design is aimed at making the game more challenging to resolve in its advanced levels. "Love Gears" has 54 locked levels that unlock sequentially as you go further in the game.
"The game was designed to deliver a unique concept of game play. With the diversity of games available on both the Android and IOS markets, players tend to choose a game that is unique, fresh, affordable, fun and challenging; Love Gears combines all," said Naser Abdulghani Founder and CEO of Jokerware LLC.
"For me 'Love Gears' is not just a game, it's a whole life turning point; when I arrived to the US all I had was my hope for a better future after being chased by the Syrian regime because I wanted to live freely and have dignity in my own country. America gave me the chance to stand on my feet again after losing everything I had," Naser added.
"Love Gears" is now available on Google Play priced at only $0.99.
For more information and to download the full version of the game please go to:
Love Gears
About Jokerware LLC:
Jokerware is a mobile game developer based in Maryland, USA. Founded late in 2012, Jokerware is committed to creating awesome mobile games for players of all ages who are looking for new features, new challenges, and addictive gameplay. The company has recently launched its first puzzle game called "Love Gears" where players challenge their brains to hitch two love monsters.
Contact
Jokerware LLC.
Naser Abdulghani
+1 301 742 5575
www.jokerware.com

Contact