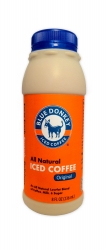 Atlanta, GA, January 22, 2013 --(
PR.com
)-- Blue Donkey Iced Coffee is a family-owned company priding itself on producing the first 100 percent all natural iced coffee drink bottled in Georgia. By sourcing ingredients from a family-owned Georgia dairy and roasting the carefully selected Arabica coffee bean themselves, Blue Donkey has produced a unique, all natural, sustainable iced coffee drink that has garnered a loyal following from the local food markets crowd.
Blue Donkey's product is composed of three simple ingredients: coffee, milk, and natural cane sugar. In addition to Kroger stores, Blue Donkey products can be found at Atlanta-area Whole Foods Markets, Sevananda Natural Food Market, Candler Park Market, Emory University, and many others.
"Launching our bottles in Kroger will be a new step of growth for Blue Donkey Iced Coffee," says Ed Lane, Chief Roaster of Blue Donkey. "We are ecstatic to work with such a respected and well-known retailer as Kroger. Ultimately, we believe this partnership will benefit Kroger customers by bringing more awareness of sustainable, all natural and local coffee products."
Blue Donkey Iced Coffee is a company committed to creating extraordinary iced coffee beverages with fresh, local, and 100 percent natural ingredients. Based in Atlanta, Ga., Blue Donkey's philosophy starts at the farm and ends in the bottle – no exceptions. For more information, visit www.bluedonkeycoffee.com.