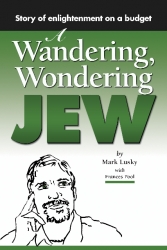 Denver, CO, January 22, 2013 --(
PR.com
)-- In time for the "Global Belly Laugh Day" celebration Jan. 24, author Mark Lusky announces Kindle publication of his book,
"A Wandering, Wondering Jew: Story of enlightenment on a budget."
(Download free Kindle reading apps from Amazon for PCs, Macs, smartphones and tablets, or read instantly in your browser, by clicking
here
.)
Loosely inspired by Elizabeth Gilbert's "Eat, Pray, Love," Lusky offers grassroots, common-sense suggestions for enhancing readers' daily lives. "Finding or improving your sense of humor is one key to enjoying life that is addressed in the book," notes Lusky. "If people find even a few takeaways from this book that they can easily integrate into their lives, I will have done my job. And, there is no upsell for an expensive personal growth program."
Lusky adds, "Everyone can benefit from prudent advice about bettering their lives. Problem is, we're all bombarded with so much advice that we often wind up in 'analysis paralysis'—doing nothing because of no clear direction to do something."
"A Wandering, Wondering Jew: Story of enlightenment on a budget" is Lusky's first Kindle publishing venture. He dedicates the book to deceased best friend Judy Hankovszky, who overcame childhood polio and confinement in an iron lung in her native Hungary to become a successful serial US entrepreneur decades later. She is featured as an inspirational everyday hero in the book.
Lusky notes, "Judy was a bit of a gypsy. She related how she ran away from home at the age of three to join the gypsies. After surviving polio (which her father, a Hungarian general, thought improbable at best), she ultimately escaped Hungary during the 1956 revolution, and came to the US with multiple issues working against her entrepreneurial aspirations. She was disabled, walking with canes and braces; she was a woman; and she was from a foreign country. Ultimately, she started three successful businesses in data entry, animal care, and the travel industry. I traveled the western half of the US in her car that I purchased from her estate. So, I guess the gypsy tradition lives on."
Frances Pool is the book's editor; Debi Knight of Knight Design Studio created the cover. To date, the book is resonating most with women.
According to friend and colleague Betsy (Elizabeth) Gilbert (no, not that one), "If everyone could learn as much as you did in your road trip of self-discovery, I think that taking to the road should be mandatory for all adults. This is powerful, extremely well-written material and I think it was a great decision to include the everyday heroes. There's at least one lesson to be learned in this book—more for those of us with above average I.Q.s and no fear of the image in the mirror."
Friend and colleague Mari Jane Panek comments, "I just finished reading it a second time. I don't know where to begin to tell you how much I like it. Truly...it's honest, real and positively inspiring. It hit so many hot buttons that I wondered if you were reading my mind...probably reading the minds of others who likewise wonder 'how the heck did our world get this way!' But it wasn't a downer by any means. It was...hopeful...and I found myself thinking 'life isn't so bad after all...we might actually survive as a species if more people thought like you, or at least read this book.'"
Editor and contributor Pool comments, "I'm not a big fan of 'self-help' books as a rule but I have to say that this one was a treat! It is a refreshingly honest look at the way most of us live and provides a heart-warming and positive take on how we can survive the challenges that occur in each of our lives."