New Novel Sends Man Down Rabbit Hole of Discovery
Cool Side Of The Pillow tells story of stay-at-home dad Zachery Kleinmann who meets an eccentric older actress, opening his eyes to a brand new world. An exploration of a man on the cusp of major change as he looks for a cool way to define his life going forward.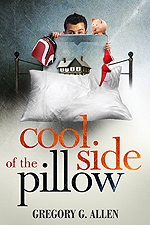 Hawthorne, NJ, January 25, 2013 --(
PR.com
)-- ASD Publishing is proud to announce the launch of the latest novel by author, Gregory G. Allen. Cool Side Of The Pillow is a story of a stay-at-home dad whose life becomes intertwined with an eccentric older actress specializing in children's theater, as he falls down the rabbit hole of her theatrical world.
Allen started his career as an actor in theater and found it a fitting place to plunge a greenhorn into for the setting of his new novel. The protagonist is a "regular" guy that is attempting to juggle all the areas of his life; fatherhood, a wife passionately involved in her own work, his lack of motivation; all while dealing with a marriage in a slump.
"Zachary Kleinmann is on a search without even knowing it when he meets Ginger Charman," Allen says. "Her youthful outlook and non-conformist ways are just the thing the thirty-nine year old dad needs to pull himself out of his self-imposed state of complacency. As the title indicates, Zachary is looking for something calming in his life as one does when they flip over a pillow in bed."
Allen loves to write about people making life-altering decisions and creating unusual characters to fill the pages of his books. While Zachary and Ginger become bonded despite their differences, the author ponders the question as to whether men and women can be "just friends," as well as stay friends once secrets emerge. It is that element of mystery and intrigue that Allen introduced in his award-winning, Patchwork Of Me that adds another layer to his writing. One early reader has even called Cool Side Of The Pillow a cross between Grey Gardens and Mr. Mom.
Allen has never been a writer to be placed in a genre "box" since his first novel appeared on the scene in 2011. His novels have explored sexuality, siblings, foster care, parenting – but all dealing with how people cope with family: both those we are born into and those created. Cool Side Of The Pillow is an exploration of a man on the cusp of life's changes as he looks for a cool way to define himself going forward; a man in search of belonging.
"I realize by not writing in the same genre with each book it makes it slightly more difficult for me to find an audience," Allen says. "But the past few years, readers have been drawn to the diversity in which I write and seem to enjoy the fact I keep it fresh with different types of books: I'm grateful and lucky for that response."
Allen has been in the entertainment industry for over twenty years as an actor, director, producer and writer. He is an award-winning composer, has been featured in national magazines, NY/NJ Public Broadcast Stations, and several radio shows; and is a contributor to BroadwayWorld.com and HuffingtonPost.com.
Cool Side Of The Pillow will be available February 8, 2013 exclusively on the Amazon Kindle before a wider release. For more information visit www.gregory-g-allen.com or www.asdpublishing.com
ASD Publishing, an independent book publisher based in New Jersey, specializes in thought-provoking literary fiction, memoir, self-help nonfiction, and written word that champions personal growth and the independent spirit.
Contact
ASD Publishing
Anthony DiBella
973-280-0145
www.asdpublishing.com

Contact