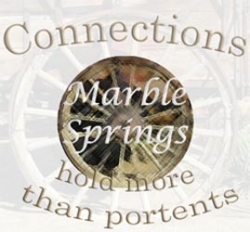 Denver, CO, March 21, 2013 --(
PR.com
)-- Marble Springs, by Deena Larsen, uses the power of the internet to present the world of a Colorado mining town from the early 1800s to pre-World War II. As Dr. Kathryn Denning describes it in Assemblage, Marble Springs is "a gorgeous concept, a fictional history of 19th century women at the American frontier, told through a collection of poems, maps, historical records, drawings, and gravestone transcriptions from the ghost town of Marble Springs, Colorado."
Marble Springs (first published by Eastgate Systems, 1993) has always been an interactive work. Readers can add their own notes, stories, or comments. More than telling groundbreaking stories, the first edition of Marble Springs used HyperCard and predated the web. This work helped inspire some important Web concepts such as left-hand navigation and wiki editing as developers explored how Marble Springs dealt with these issues). It was hailed as the first interactive work in reviews from the Wall Street Journal and Utne Reader in 1994 ("Marble Springs points to the future of constructive hyperfiction." Harry Goldstein, Utne Reader).
The new version of Marble Springs is entirely available online. Go to
http://marblesprings.wikidot.com/
and join the community, explore the town, and add your voice. The new version offers a greater range of content as well, with new characters, stories, and connections through the work for readers to follow and puzzle out the things that no one is willing to say out loud. The Forbidden List, a gossipy table of contents, also makes clear what was deeply hidden before. So come sort through what is left in Marble Springs: A map. Some tales. An old bottle of chokecherry wine.