Local Veterinary Hospital Holds Pet Weight Loss Contest
Renowned local veterinary hospital Bishop Ranch Veterinary Center & Urgent Care is taking on the challenge of the national pet obesity epidemic by holding a "Biggest Loser" pet weight loss contest to help encourage owners to get their pets in shape and lose weight.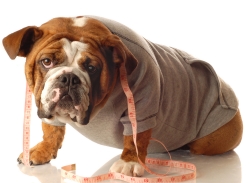 San Ramon, CA, February 01, 2013 --(
PR.com
)-- Bishop Ranch Veterinary Center & Urgent Care is partnering with Hill's Pet Nutrition to hold a "Biggest Loser" Pet Weight Loss contest to help pets get healthy and in shape for the New Year. The hospital wanted to find a creative and fun way to address the national pet obesity epidemic and was inspired by the traditional New Year's resolution to lose weight. The goal is to promote preventive health care through weight loss and a healthy pet lifestyle.
According to a 2010 study conducted by the Association for Pet Obesity Prevention, an estimated 54% of cats and dogs in the United States are overweight and obese. That is about 94 million cats and dogs. Nestle Purina performed a controlled study over the life of forty eight Labrador Retrievers and showed that by maintaining a lean body weight alone, dogs live 15% longer. For the Labradors in the study this was equal to about 2 years. In addition to shorter lives, obese dogs and cats are at an increased risk of arthritis, diabetes, heart disease, and skin disease.
The contest officially starts on February 1st and will last for 3 months. People interested in signing up there pets should email info@webvets.com by Friday, February 8th. Participating pets must have had an exam with a veterinarian at Bishop Ranch Veterinary Center & Urgent Care within the last 60 days in order to be eligible. Before and after photos will be shared on the hospital's Facebook, Twitter, and Google+ social media sites. Pets must weigh in every two weeks at the hospital and the pet's weight loss will be monitored by a veterinarian. The winners will be based on the greatest percentage of weight lost in the given time period. There will be three categories: dogs 1 to 5 years, dogs over 5 years, and cats. Prizes include a 3 month supply of Hill's Prescription Diet pet food, a $25 gift certificate to the Pet Care Depot, a free pet spa day at Bishop Ranch Veterinary Center & Urgent Care, and a $40 gift certificate to local pet store Molly's Pup-Purr-ee.
Bishop Ranch Veterinary Center & Urgent Care is one of the few human-equivalent veterinary hospitals in the Tri- Valley area. With 15 doctors on staff, the hospital provides primary care, emergency and urgent care, specialty and surgical services, acupuncture and boarding for dogs, cats, and exotic pets. It is the largest such medical and surgical facility for pets in San Ramon and the greater Bay Area.
Established in 2000, Bishop Ranch Veterinary Center & Urgent Care is accredited by the American Animal Hospital Association and also works to support local animal rescue groups by donating tens of thousands of dollars in veterinary care every year. They are the winner of Diablo Magazine's Best in the Bay Veterinary Hospital as well as the San Ramon and Danville Express Reader's Choice Award for Best Veterinary Hospital multiple years in a row. The hospital is open Monday through Friday from 7:00 am until 10pm, and weekends from 8:00 am until 8:00 pm.
For more information about Bishop Ranch Veterinary Center & Urgent Care call 925-866-8387 or go to www.webvets.com. The hospital is located at 2000 Bishop Drive in San Ramon, California.
Contact
Bishop Ranch Veterinary Center & Urgent Care
Erin Selby
925-327-0790
www.webvets.com

Contact