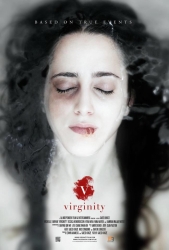 Los Angeles, CA, February 05, 2013 --(
PR.com
)-- "Virginity," a film by director Saaed Khoze (starring Michelle Farivar, Jessica Hendrickson, Vera Nova, Nina Nayebi and Kamran Malak Motiei), is an independent feature-length film based on true events. It tackles the perverse subject and worldwide epidemic of "honor killings" through a compelling and artistic narrative.
The story involves an Iranian girl from a religious family, a European call girl and a Russian girl. When the Iranian girl, Raha (played by Michelle Farivar) is forced into an arranged marriage by her parents, she endures a number of difficult and life-altering events.
The filmmakers (writer/director Saeed Khoze, producer Edwin Avaness, and the entire cast and crew) made this film with the hope that it will raise awareness of honor killings and the plight of Muslim women around the world. The following is a snippet from the film's website and sums up Saeed Khoze's reasons for tackling this subject:
"Virginity is being made for women of Muslim faith in the Middle East who have become the sacrificial lambs of 'honor killings'; those women whose voices have been choked behind thousands of years of oppression; the same voices, which do not have an echo loud enough to be heard across oceans and mountains. Those same women, who suffer at the hands of a false pride, an inflated bravado, and often die silent deaths buried by bribes and insufficient fines of a corrupt government. Those are the same women who need our voices now. Those are the same women for whom we make this film and who need our support now more than ever. Those women need films like Virginity to be made, so that they can fall in love without fear, so that they can experience the joys of womanhood without the terror of persecution. Virginity does not aim to single out at any particular culture or people; it poignantly and artistically draws attention to an antiquated epidemic of small-mindedness and control, which haunts the women of the world to this day. Honor killings, rape, prostitution and sexual trafficking are a few of the crises affecting the 3 leading characters at the heart of our film. There will be a non-profit company born out of this film, which will aid Muslim women in this plight."
"Virginity" has been submitted to film festivals worldwide and will be released theatrically in late 2013.
Film Details:
Original Title: Virginity
English Title: Virginity
Running Time: 95 minutes
Language: Farsi, English, French, Russian
Year of Production: 2012
Country: USA
Genre: Drama, Based on true events
Website: www.virginityfilm.com
Stay up-to-date and see behind-the-scene photos at www.facebook.com/vfilm.