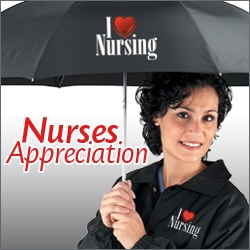 Hauppauge, NY, February 06, 2013 --(
PR.com
)-- Nurses play a fundamental role in our healthcare system. Day after day they are on the front line in hospitals, doctor's offices, and long term health facilities caring for patients and comforting their loved ones. Positive Promotions, the leading company in nurse recognition gifts for the past 10 years, encourages you to honor your nursing staff during National Nurses Week, May 6-12, 2013. Any amount of recognition goes a long way. Through market research, Positive Promotions has developed many unique logos and themes like "I Love Nursing," to perfectly express in many ways why nurses should be celebrated. Show your nursing staff you recognize and value their hard work with Positive Promotions budget-friendly, top-quality nurse recognition gifts starting as low as $0.99.
As an established recognition event since 1974, National Nurses Week occurs on the same dates each year, commencing on May 6 and ending on May 12, the birthday of Florence Nightingale. It is safe to say, the tireless effort and compassion of nurses towards their patients along with the support they offer their colleagues helps maintain our nation's health. Positive Promotions makes appreciation efforts easy, affordable, and effective. From recognition gifts and cards right down to décor, they offer everything you need to elevate your Nurse Appreciation Week celebration to be a distinguished event.
As a company in the recognition business for over 60 years, Positive Promotions is excited to offer several fresh and new themes for this year's Nurse Appreciation Week. Themes like, "Nursing: Pride, Passion, Purpose," "Nurses: Making a Difference In The Lives of Others," and "Nurses: An Essential Piece of Our Team," are just a few of the new inspiring sentiments to adorn gifts nurses are sure to love.
From reversible tote bags, to tumbler and lunch bag gift combos, to pen gift sets and more, Positive Promotions offers hundreds of recognition gifts with heartwarming themes at price points that will fit any budget. If you desire a gift more personal to your nursing staff, they offer personalization options on most products making it possible to include your own artwork, institution name or logo. Many gifts come beautifully gift boxed at no extra expense making them easy to give and wonderful to receive.
Positive Promotions is a budget-friendly, one-stop-shopping source for awareness and educational tools. It is a direct source that offers quality product at exceptional monetary value. Customers can order in 4 easy ways: online anytime at
positivenurses.com
, by calling toll free at 1-800-635-2666 to speak to with a knowledgeable customer service representative Monday-Friday from 8am-7pm EST, by faxing an order toll-free at 1-800-635-2329 anytime, or by mailing an order to Positive Promotions at 15 Gilpin Avenue, P.O. Box 18021 Hauppauge NY 11788-8821. To request a catalog visit the company website at
positivepromotions.com
and click the catalog request link.