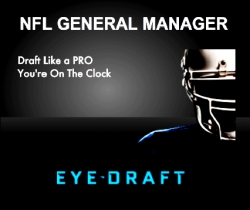 Denver, CO, February 12, 2013 --(
PR.com
)--
Eye-Draft
puts your knowledge of college football talent and your understanding of pro football team needs to the test! Become the GM of your favorite NFL Team and compete against other fans, draft gurus, and amateur football scouts in the most realistic simulation of the NFL Draft.
This isn't your same old Fantasy Football routine or misguided NFL Mock Draft. This is the real deal!
The 2013 Eye-Draft will start a week before the NFL draft. You'll be put on the clock with the same rules, time constraints, and draft order used by the NFL. Your picks will be compared to your team's actual selections and you'll be ranked against your draft-mates.
Here's your chance to put your college football talent evaluation skills to the test and upgrade your team the exact same way General Managers do across the League. Pick by pick, round by round — Eye-Draft will change the way you look at Pro Football Management.
Grand champion to win 2 Super Bowl tickets to the 2014 Super Bowl in New York.