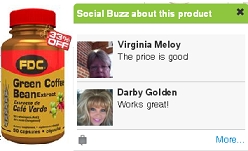 Miami, FL, February 14, 2013 --(
PR.com
)-- Nutrasource.com (
http://www.nutrasource.com
), a one-stop online destination for vitamins and supplements, released data today showing strong growth in their business via their social commerce initiatives. Nutrasource.com has partnered with ShopSocially (
http://shopsocially.com
), a leading social commerce platform, to achieve this growth.
Nutrasource.com realized that the need for a comprehensive social strategy. They understood that the correct approach was to embed rich, meaningful social apps seamlessly in the entire buying loop, from pre-purchase to post-purchase and back.
Nutrasource.com embedded some of the ShopSocially applications on their site and the results were immediate.
- Nutrasource Facebook fan base increased by 396% in 6 months
- 13% of fans are also subscribing to the Nutrasource.com newsletter
- Nutrasource Fans converted to sales at an astonishing 16.34% rate.
- Nutrasource.com converted 5% of their shoppers into brand ambassadors who shared information about Nutrasource products with their friends
- Nutrasource.com also accumulated thousands of social testimonials
- Social testimonials were shown on product pages as "social proof" resulting in 66% increase in conversion rate on those pages.
"ShopSocially gave us a social commerce strategy that made sense. We quickly saw tangible increase in revenues, conversion and traffic through social virality," said Ashoka Ganesan, managing director of Nutrasource.com. "Unlike other social products we tried, ShopSocially is the only one that delivered impactful & measurable ROI. It's been a great partnership in helping us achieve our objectives."
"Social experiences embedded seamlessly within existing ecommerce flows can positively affect all key success metrics for retailers," said Samir Palnitkar, VP of Customer Success at ShopSocially. "The ShopSocially platform takes a comprehensive approach and engages the user in social actions throughout the buying process, thus increasing both, revenues and word-of-mouth virality. We are glad to see Nutrasource.com's success."
About Nutrasource.com
Nutrasource is the premier online health and wellness destination dedicated to offering only the best vitamins, minerals, herbs, sports fitness, bodybuilding supplements and a wide variety of other health related products from around the world.
Nutrasource.com health and wellness products are evaluated and selected by an advisory board consisting of leading doctors, scientists, nutritionists, dieticians, and certified personal trainers. Nutrasource is focused on offering only products that provide truthful labeling, ingredient safety and product potency all while remaining at the forefront of nutritional health and wellbeing. Nutrasource.com offers these premier health and wellness products directly to consumers through its website.
About ShopSocially
ShopSocially is a powerful platform for retailers that are serious about social commerce. It takes a holistic approach of embedding social experiences in users' Entire buying process. These rich, targeted and proactive social experiences result in significant improvement across all key metrics - discovery, engagement, decision making, conversion rate and brand amplification.
Founded in 2010, ShopSocially is a privately held company based in Silicon Valley, California. ShopSocially's executive team has deep eCommerce expertise and a track record of building successful companies. It has already received several awards and recognitions for its innovative technology and market execution.