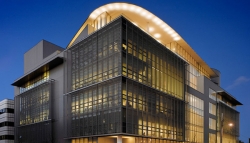 Boston, MA, February 14, 2013 --(
PR.com
)-- The Boston Society of Architects (BSA) awarded its highest honor, the Harleston Parker Medal, to the recently completed $94-million, 163,000-square-foot Massachusetts Institute of Technology (MIT) Media Lab extension, for which Weidlinger Associates, Inc., (www.wai.com) was the structural engineer of record. Pritzker Prize winner Fumihiko Maki, of Maki & Associates, Tokyo, and architect of record Leers Weinzapfel Associates, Boston, designed the academic building, which houses seven laboratories for the study of information technology in various disciplines. The Media Lab continues to occupy its original quarters, the adjacent 1985 Wiesner Building, designed by I.M. Pei.
According to the BSA, the medal "acknowledges the most beautiful piece of architecture, building, monument or structure within the City of Boston or Metropolitan Parks District limits." It is intended to "stimulate the appreciation of good architecture by the public, and give public recognition by the city to architects who have succeeded in doing...exceptionally good work."
In a detailed article in Civil Engineering magazine (September 2010), Joe Pryse, Leers Weinzapfel principal in charge, described the highly successful collaboration of architects and engineers on the project, which required an unusually large number of drawings and mock-ups given the square footage and cost. "For instance, two mock-ups of the facade were created, one to determine the curtain wall's susceptibility to water and wind infiltration and the other to determine its constructability." He noted that in designing the glass elevators and other special features, "the design team relied on [Weidlinger Principal Peter] Quigley's engineering expertise 'way more than we've ever involved a structural engineer in the miscellaneous metal aspects,' because very few standard details were included in the extension's design."
"As challenging as the project was," said Quigley, "it was a pleasure to work with architects who had in mind to create a masterpiece, and succeeded in doing so. It was especially rewarding to contribute to a design that fostered innovation and collaboration among the design team members, values that have always defined Weidlinger. I assumed leadership of Weidlinger's Boston office during the course of the project, which I believe stands for all that we represent as a firm and hope to achieve in the future."
The structure's translucent exterior incorporates numerous large geometric forms. Its two large atriums are serviced by two glass elevators and three sets of brightly colored long-span "flying" stairs. Steel-framed bridges along the perimeter facilitate movement between labs. Although the labs vary in size, their basic configuration can accommodate any type of research. Installation of fritted glass and other low-energy materials permitted glazing of up to 80 percent of the façade, allowing maximum transparency while still conforming to stringent Massachusetts energy codes. A distinctive exterior sunshade consisting of large panels of evenly spaced aluminum rods blocks 50 percent of solar heat gain. The top floor has event space as well as a winter garden that overlooks the Charles River.
The BSA also awarded citations to two Weidlinger-engineered healthcare facilities—the Advanced Multimodality Image Guided Operating (AMIGO) Suite, Boston, by Payette, for Integration of Advanced Medical Technology and the Whittier Street Health Center, Roxbury, by DHK Architects, for Community Health Center design.
Weidlinger Associates, Inc., is a 300-person structural engineering firm that designs and rehabilitates buildings, bridges, and infrastructure and provides special services in applied science, forensics, and physical security. The firm, which celebrated its 60th year in 2009, is recognized worldwide for its innovative and practical design solutions and for its long-term commitment to advancing the state of the art in engineering. Headquartered in New York City, the firm has branch offices in the United States and the United Kingdom. For more information, please see www.wai.com.
Weidlinger's Massachusetts office, which recently relocated from Cambridge to South Boston, was established in 1962. Recent award-winning projects include the Museum of Fine Arts, Boston, Art of the Americas Wing and the LEED Gold-certified JW McCormack Post Office and Courthouse Renovation and Upgrade. The office is currently designing a significant addition to the Peabody Essex Museum in Salem, Massachusetts.
Photo: MIT Media Lab, Fumihiko Maki with Leers Weinzapfel Associates