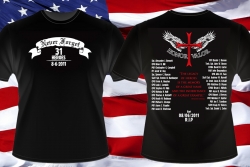 Wichita, KS, February 19, 2013 --(
PR.com
)-- American Hero T Shirt is premium seller of its patriotic apparel and accessories. Recently, the company launched a new design called 31 Heroes to commemorate 31 American soldiers who died on 08/06/2011 in Afghanistan.
The soldiers were on their way to provide support to an on-ground team, when their Chinook helicopter crashed in Tangi Valley. The chopper was hit by a rocket propelled grenade, launched by Taliban insurgents. 22 of the 31 heroes were SEAL commandos. The dead included the chopper's crew of five US servicemen and an army dog.
The 31 heroes shirt is available in four sizes (in black only) either as a hoodie or a T shirt. The front of the 31 heroes T shirt contains a message "Never Forget- 31 Heroes," with the date of the tragedy. The back of the 31 heroes contains the names of the 31 heroes who died that day. The 31 heroes design is also available in one more variation with a poem by William Shakespeare.
A spokesperson from American Hero T Shirt said that a great tragedy took place on 08/06/2011 when 31patriots were snatched by the jaws of death. American Heroes wanted to commemorate the supreme sacrifice made by the 31 heroes and therefore it had brought out the design.
The 31 heroes design is perfect for people who want to show their support for the US armed forces. $5 from each sale of the 31 heroes T shirt will be donated to a charity that supports war veterans, wounded soldiers and the families of those who have died for the country. American Hero T Shirt is also going to bring out a 2nd anniversary design in July 2013, to commemorate the 31 heroes.