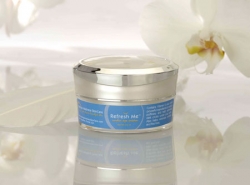 Palm Beach, FL, February 20, 2013 --(
PR.com
)-- Anti-aging skin care product manufacturer Mango Madness Skin Care, Inc. has announced the availability of a
Vitamin K based under eye cream to fade dark circles
.
Many people with very good skin nevertheless suffer from periorbital hyperchromia, also known as dark circles below the eyes. The cause of these unsightly shadows is typically caused by pooling of blood under the thin skin near the eye area as a result of leaking capillaries. Topical preparations containing Vitamin K-1, also known as phytonadione, can help stop the blood vessels from leaking by promoting coagulation. This results in less discoloration, fewer pigmentation problems, and minimizes swelling.
Mango Madness Skin Care has developed an over the counter skin cream branded as Refresh Me that contains Vitamin K and other compounds to help manage these dark areas. The company's other anti-aging products include advanced
paraben-free wrinkle creams with peptides
and retinol, exfoliation products, moisturizing creams and serums, and special-purpose creams.
"For people that want to get rid of dark circles and under eye puffiness, Refresh Me with Vitamin K is an ideal solution," said Gary Myers, president of Palm Beach, Fla. based Mango Madness Skin Care. "We've improved this Vitamin K eye care cream by adding Arnica Montana and soy peptides to help eliminate the bags and black rings."
Mango Madness products are formulated to contain no parabens, sulfates, phthalates, BPA, artificial fragrance, or other harmful ingredients. They are gluten free. The company performs no animal testing and all ingredients and products are animal cruelty free.