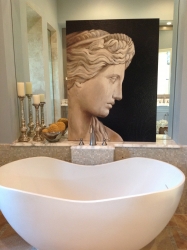 Naples, FL, February 21, 2013 --(
PR.com
)-- Renowned design firm, Beasley & Henley Interior Design is pleased to have completed the new Regency II model home for Stock Construction in the Buonasera neighborhood at Mediterra, Naples, Fl. This four-bedroom, estate home is now open for viewing.
The Beasley & Henley design team, lead by Design Principal Troy Beasley, designed this 3,700 sq. ft. Regency II to feature a casual, yet sophisticated interior for the relaxed Naples lifestyle.
Cool blue walls are layered with elements of gray, tans, crème and navy, adding to the overall contrast of the interior finishes. Furnishings are comfortable and scaled to fit the open plan concept for this residence. Textures are mixed throughout, offering comfort as well an eclectic combination of both modern and traditional art work. Designer created architectural ceilings are proudly lit with decorative lighting that adds jewelry to the creative interiors, adding that element of warmth to each room. Warm wood flooring has been blended with stone floors, grounding the color tones of the residence. Pops of curry and lucent gold are introduced to add excitement to individual guest suites.
In the kitchen, stainless appliances are joined with cream and gray cabinets and topped off with large veined quartzite countertops, tying the colors together in the main living area of the home. The master bath has a beautiful free standing kidney shaped soaking tub and the shower is scaled for two.
The Regency II is priced at $1,535,618, fully furnished.
Mediterra is on Livingston Road, two miles north of Immokalee Road, west of Interstate 75. Online at www.ExperienceMediterra.com.
Beasley & Henley, with offices in Naples and Winter Park, provide Interior Detailing, Interior Design and Furnishings for luxury builders, private clients and select commercial interiors. They are well known for their sophisticated, livable, and inspiring interiors. Their much-loved designs help homes sell quickly and inspire individual homeowners to commission Beasley & Henley to create custom designs for their own residences. The firm's Naples marketing office phone is 239-774-1005, with Central Florida reachable at 407-629-7753. As always, please reach is by email at Stephanie@BeasleyandHenley.com. Lic#1038