Mattie Miracle Sponsors Multidisciplinary Think Tank to Develop Psychosocial Standards of Care for Childhood Cancer
Mattie Miracle Cancer Foundation sponsored a multidisciplinary think tank for the development of standards of care for the psychosocial needs of children and families with childhood cancer. The Think Tank was held at the American Psychosocial Oncology Society's (APOS) 10th annual conference in February 2013. Mattie Miracle also received the APOS Outstanding Community Service Award for 2013 during the conference.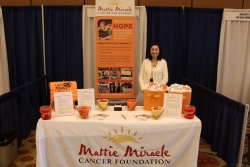 Arlington, VA, February 24, 2013 --(
PR.com
)-- Mattie Miracle Cancer Foundation sponsored a landmark childhood cancer psychosocial think tank at the 10th annual American Psychosocial Oncology Society (APOS) Conference in Huntington Beach, California. APOS acknowledged Mattie Miracle for its outstanding contributions and achievement in the field of Psychosocial Oncology at the national level by granting the Foundation a Distinguish Public Service Award.
The historic think tank was attended by over two dozen leading multidisciplinary psycho-oncology researchers and clinicians from the United States and International institutions. The purpose of the think tank was to identify essential psychosocial services, treatments and interventions that all childhood cancer patients and their families should receive during treatment and through survivorship or end of life care. Currently there is no widely accepted psychosocial standard of care to assist children and families with a childhood cancer diagnosis.
"Mattie Miracle is fully committed to supporting this talented and dedicated group of professionals to identify the essential psychosocial services that must be provided to all families," said Victoria Sardi-Brown, chairman, President and co-founder of Mattie Miracle. "We believe these essential services for childhood cancer patients and their families will eventually be published as guidelines for all institutions to implement."
Peter Brown, co-founder said, "A psychosocial standard of care is both necessary and required because even if there was an 100% cure rate for childhood cancer, there would still be devastating psychological, social, and emotional needs that would have to be addressed for all members of a family unit, including the child."
The Mattie Miracle Cancer Foundation is a 501(c) (3) Public Charity founded by Peter Brown and Victoria Sardi-Brown, in loving memory of their seven year-old son Mattie, who died in 2009 from Osteosarcoma, a type of bone cancer. "These days are very stressful and anxiety provoking for children and their families," said Brown. "Addressing these psychosocial needs of children and their families is central to our Foundation's mission and honors our son's memory in a meaningful way."
Mattie Miracle is dedicated to addressing the psychosocial needs of children and families living with childhood cancer as well as educating health care providers on the impact of such a diagnosis on children and their families. Mattie Miracle believes through increased awareness, education and support, and advocating for psychosocial support and needs, we can enhance the lives of children with cancer and their families.
Contact
Mattie Miracle Cancer Foundation
Peter Brown
703-625-6030
www.mattiemiracle.com

Contact