OneSource Interactive, Spins Out the Sojourn Kiosks Into New Brand Called URway Kiosks
OneSource Interactive spins out its original and very successful Sojourn series kiosk line into new brand called URway Kiosks. The Sojourn kiosks are perfect for any event or project and one of the amazing design highlights; the Sojourn series kiosks require "No Tools" for quick, simple set-up and breakdown.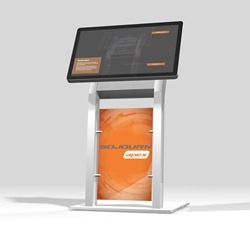 Dayton, OH, February 26, 2013 --(
PR.com
)-- As OneSource focuses on the growing Managed Digital Services business centered on kiosks, digital signage, digital directory and mobile/tablet deployments, it just made sense to let some of these popular platforms stand on their own, said Edward Crowley President & Founder of OneSource Interactive. The Sojourn will be joined by a few other platforms in the coming months to further extend and expand URway's products as the OneSource team turns its full attention to Managed Digital Services and grows its core services business.
The URway Sojourn series kiosk platform is a revolutionary new modular design concept that continues to evolve and grow. The Sojourn series was developed and introduced into the marketplace back in 2010 and starting with good visibility at CES in 2011, and with numerous successful projects, the Sojourn series has received high acclaim from customers and partners.
The unique, modular design, clean vertical lines and simple configuration and assembly, makes any event more engaging and a breeze to setup. The modular lightweight design, quality aluminum construction and unique engineering, blend perfectly for a trade show, event, traveling exhibit, temporary or permanent deployment, it's perfect for everything. In addition to this amazing new modular concept, the Sojourn series kiosks require "No Tools" for quick, simple set-up and breakdown and this amazing design element, just needed to be repeated, stated Crowley.
For a first hand look, you can see some of the Sojourn series kiosks in customer and partner booths at this weeks Digital Signage Expo (DSE) show in Las Vegas.
About OneSource Interactive
OneSource Interactive is a turnkey Managed Digital Services (MDS) and Connected Digital Technology (CDT) solution provider. We specialize in self-service kiosks, interactive and passive digital signage, digital directory & wayfinding, mobile / tablet application integration and strategic consulting services. For more information about OneSource Interactive please visit
www.osimds.com
.
About URway Kiosks
URway Kiosks is a dynamic digital media solutions company that leverages extensive hardware design, manufacturing and deployment experience to provide unique, modular and engaging digital delivery platforms for today's rapidly evolving interactive digital display landscape. We pride ourselves on providing a fresh and unique approach to the typical kiosk, digital signage, digital directory and mobile/tablet based enclosures. For more information on the URway Sojourn series and all the models available, please visit
www.URwayKiosks.com
.
Contact
OneSource Interactive
Edward J Crowley
937.401.2420 | t
www.osimds.com
512.657.3530 | m

Contact