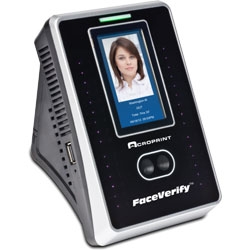 Raleigh, NC, March 01, 2013 --(
PR.com
)-- Acroprint Time Recorder Company will exhibit several workforce management solutions at CeBit, the world's largest computer expo. Their exhibit will include their state-of-the-art facial recognition biometric solution, timeQplus FaceVerify, and the ATR360, an innovative optical fingerprint biometric punch clock.
CeBIT 2013 takes place March 5-9, 2013 at the Messegelande Fair Grounds in Hannover, Germany. This international computer expo features exhibitions, corporate events and conferences and has been held as a distinct event every year since 1986. CeBIT is widely considered a barometer of the state of the art in information technology.
Acroprint's exhibit at CeBIT will highlight the newest addition to the timeQplus product suite, timeQplus FaceVerify. The timeQplus suite offers small to mid-sized businesses an affordable, powerful and flexible solution for accurately recording employee work time. FaceVerify uses advanced facial recognition biometrics to clock employees in and out totally hands-free, even in very low light. This rapid and reliable touchless biometric technology is particularly popular during cold and flu season.
The timeQplus product suite allows organization to choose from several data entry options: PC-punch, badge terminals and biometric terminals. Different input methods can be mixed on the same installation. The Acroprint exhibit will include several of these data input options in addition to FaceVerify, demonstrating the depth and versatility of this affordable time recording solution.
The Acroprint exhibit will also highlight the innovative ATR360 biometric punch clock. This clock can be configured to require a verified fingerprint scan before printing the employee's start or stop time on familiar, easy-to-use time cards. Functioning as a stand-alone unit, the ATR360 offers the benefits of biometric technology, eliminating costly "buddy punching," without the hassle of complicated computer connections.
Mihaela Mitran, Business Development Manager at Acroprint, stated, "We are excited to be exhibiting for at least our seventh consecutive year at CeBIT. The products we are bringing to the show offer several unique and desirable features and we believe they will prove to be popular with attendees."
Acroprint's CeBIT exhibit can be found in Hall 12, location D54.
About CeBIT
CeBIT began as category of HANNOVER MESSE in 1970, and was spun off into a separate show in 1986. It attracts thousands of exhibitors and is attended by hundreds of thousands of technology industry professionals every year. For more information, visit www.cebit.de.
About Acroprint Time Recorder Company
Acroprint Time Recorder Company is a leading global manufacturer and distributor of time and attendance solutions with dealers/distributors across the United States and products that are exported to 70 foreign countries. Our products are used daily by millions of employees around the globe to accurately record their time and attendance. A family-owned company headquartered in Raleigh, NC, Acroprint has been helping businesses save time and money on labor management for over 43 years. For more information, visit www.Acroprint.com.