StoryofMyLife.com Launches - Be Remembered Forever for $1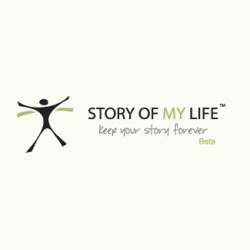 Silicon Valley, CA, August 04, 2007 --(
PR.com
)-- Eravita, Inc announces the launch of storyofmylife.com to offer users a place to create a multi-media personal life Story that will be stored forever. A separate 501(c)(3) non-profit called the Story of My Life Foundation has also been established with the mission of keeping the stories maintained and accessible in perpetuity, updating files as technology changes, and issuing grants to go out and capture Stories of those otherwise without access to do so.
"When I saw how much family memorabilia was destroyed in Hurricane Katrina, I was inspired to create an online site for safely and conveniently keeping family histories," said Patrick Tardif, founder and CEO of Eravita, Inc. "The Story of My Life site allows us to contribute to the burgeoning genealogy movement by preserving anyone's life story for posterity."
"Our goal is to get a Story about every single person both living and deceased. We want to create the largest online collection of life Stories in the world, and preserve them - forever," says Victoria Backer, President of the Story of My Life Foundation.
Stories posted include people's backgrounds, hopes, dreams, family history and other details. Stories of different family members are linked together so that users will be able to read them for generations without worry of them being lost, destroyed, or erased. In order to alleviate fears of spilling family secrets, stories and files can be private or released in the future by placing them in "time capsules."
Storyofmylife.com users create private networks for families who want to share stories, pictures, videos, and keep in touch, for those to whom leaving their legacy is important and for boomers who are reaching retirement and becoming interested in genealogy and recording stories.
The site remains free to use so long as there is activity on the account. Once an account has gone six months without activity the system begins attempting to contact the user or guardian that the person has assigned to manage the account. For $1 per megabyte, the user or guardian can opt to move the story into a permanent archive called "Forever Space." The Story of My Life Foundation receives a portion of all Forever Space purchases. These proceeds go into an endowment fund that provides funding to cover storage costs in perpetuity.
For more information, visit
http://www.StoryofMyLife.com/
or call toll free 888-837-8650.
For information about Eravita visit: www.eravita.com
Eravita is the parent company of the Story of My Life website:
www.storyofmylife.com and offers additional services and programs to help people write their stories, and enrich them using modern multi-media such as pictures, video, audio files and more and partners with the non-profit Story of My Life Foundation.
About Story of My Life Foundation [www.storyofmylifefoundation.org]
The Story of My Life Foundation is a non-profit which is entrusted with funds to maintain and assure continued access to people's Stories in perpetuity and grants to those who would otherwise not have access.
Contact: Kristen Kuhns
Tel. 925-218-0601
Cell Ph. 925-325-9896
Email:
kkuhns@storyofmylife.com
###
Contact
Eravita, Inc.
Kristen Kuhns
888-837-8650
www.storyofmylife.com/
Direct: 925-218-0601
Cell: 925-325-9896

Contact