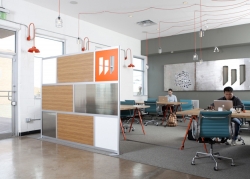 Dallas, TX, March 04, 2013 --(
PR.com
)-- Leading Edge Coworking Space Will be a Laboratory for the Future of Workspace Design: Partnership Announced at 2013 Global Coworking Unconference (GCUC) to Look Deeper Into How People Interact with a Flexible Work Space
Two Dallas-based entrepreneurs are collaborating to enhance how coworking spaces are used. LOFTwall and WELD are partnering to observe and identify the diverse needs of coworking members, monitoring the fluctuations of people and workspace needs. LOFTwall will be documenting the experiences of members while working at WELD and observing how coworkers interact in the space as it changes and evolves.
"We're excited to work with WELD, and believe it could provide insight into how coworking environments can provide greater value as alternatives to traditional office spaces through the types of interactions and furnishings that create the space," said Steve Kinder founder at LOFTwall.
Both Kinder and WELD founder Austin Mann have worked and lived in creative spaces for the most of their careers and have identified a need for flexible, collaborative spaces that can accommodate the diverse needs of artists and creatives. "Creating a non-cubicle creative office environment was where LOFTwall came in," noted Kinder. Steve designed LOFTwall to address a need for a freestanding divider screen that could adapt with the changing needs of the space and have a unique customizable design. Austin, an accomplished travel photographer, while reaching his own personal goals for creating change through his work with non-profit organizations and aid projects, realized there was a need for a creative community to affect bigger change together.
WELD's Community Manager, Tiffany McAnarney, partnered to lend her talent as a convener and curator of creative spaces and the space is taking off and thriving.
"We have carefully curated a community of creatives that individually work as both entrepreneurs and artists. Our space needs to be flexible enough to facilitate their creative process, so we looked for innovative solutions to meet the progressive culture," shared Tiffany McAnarney of WELD.
About LOFTwall
Dallas-based LOFTwall manufactures divider screen products, founded by Steve Kinder, a design entrepreneur and graduate of the Rhode Island School of Design. LOFTwall's mission is to change the world one space at a time, creating innovative and straightforward solutions for environments where you work, live and play. LOFTwall's distinctive modular divider solutions are customizable and create privacy and flexibility for space utilization. LOFTwall's products are made in the U.S.A. and have a high percentage of recycled content. For more information, please visit LOFTwall.com
About WELD
WELD is a Dallas coworking space - helping creatives connect, create and learn.
WELD goes beyond its four walls- its community hub is a sort of "creative dock" for members - an ideal place where they can recharge, connect with others, and improve their craft within a community instead of alone. WELD offers photo and artist studios as part of their WELD membership package and makes a really, really good cup of coffee. For more details, visit WELD.co
For more information, or to schedule an interview with Steve Kinder, Tiffany McAnarney, or Austin Mann, please call Amy King at 202.288.8335 or email amy@LOFTwall.com. Steve and Tiffany will be attending the GCUC in Austin, March 5 & 6, 2013 and are available for interviews before, during, or after this event. Austin Mann is available via phone and email.