Chef's Book Explains Why Most of Us Need a Lifestyle Makeover, Power-Up Energy, Lose Weight Without Any Diet
Today the release of a chef's book, The MicroNutrient Solution, could be the end of diets as we know them. Best yet, this cutting-edge philosophy is free.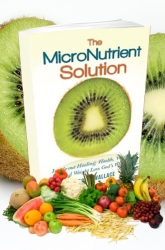 Los Angeles, CA, March 05, 2013 --(
PR.com
)-- Have we all been thinking about dieting incorrectly for decades? Chef Shedric Wallace says yes in his newly released book, The MicroNutrient Solution. Unlike many, Chef Shedric offers his new concept free from his Web site, http://healthfulchef.com
Whether you are a stay-at-home mom or corporate CEO, chances are there are more things on your to-do list than you have time to get to each day. Chef Shedric believes that life's constant pressures can cause us to easily drift into unhealthy territory, but he also offers an easy fix.
In The MicroNutrient Solution, Chef Shedric argues that there are core habits that would keep us healthy, but in our hectic lives we often overlook taking care of ourselves. When modern demands cause us to neglect those critical health habits, we can become dull, ineffective, and even ill. He uses this analogy to make his point:
"Most of us, like expert lumber jacks, are busy chopping trees all day. Our trees are the multitude of tasks that fill our days. Because there are more things to get done than we have time for each day; we just keep chopping from the time we wake up until we go to bed. We seldom take time to sharpen our axes. Unfortunately, a dull axe can make us less effective and ultimately wear us out physically," said Chef Shedric. "The typical American diet and eating habits are our dull axes."
According to Chef Shedric, who is a certified nutrition and wellness coach, our basic routines are the things that determine our health and vitality.
The MicroNutrient Solution develops the core habits to effectively sharpen our axes. It's essentially a "Lifestyle Makeover" that we can use anytime we find ourselves drifting into unhealthy behaviors like skipping meals, consuming too much overly processed food, or failing to properly de-stress.
Chef Shedric's book points out that in a perfect world with less stress, fewer environmental pollutants and more nutrient dense food choices; staying healthy and feeling sharp would be much less of a challenge. Unfortunately, in our real world we need to make the time to have our own lifestyle makeover from time to time.
About the Author, Chef Shedric Wallace, and the Book, The Micronutrient Solution:
Chef Shedric is former Vice President of Culinary Research and Development for The Olive Garden Restaurants and former Culinary Development Director for Royal Caribbean Cruise Lines. He spent most of his professional career studying what drives us to eat the way we eat. Now he is applying what he learned from years of sophisticated consumer research to a higher calling. Shedric is transforming lives by sharing the secrets to eating our way to great health and weight loss – rather than starving ourselves.
"As a professional researcher, I could not understand why I could not permanently lose weight in spite of intense exercise and rigid dieting. Once I discovered the importance of eating an abundance of micronutrients daily, I spent the next two years validating the scientific principles behind The Micronutrient Solution."
In less than two years he read 50 books on diet, health, and nutrition and earned a certification as a nutrition consultant. His research led him to the conclusion that most of what we have been taught about dieting is simply wrong.
Shedric studied food science at California Polytechnic University, where he earned a Bachelor's in Science. He is also a graduate of the prestigious Culinary Institute of America in Hyde Park, New York. In addition, he holds a certification as a nutrition and wellness consultant.
Shedric honed his culinary skills at five star properties like the Hay-Adams Hotel in Washington DC, a favorite of the world's politically elite, literally across the street from the White House and the Loews Santa Monica Beach Resort in Santa Monica California.
Contact
HealthfulChef.com
Renee Shaw
541.659.5421
www.healtfulchef.com

Contact