Inner Maldives Holidays Launches Innovative Anaglyph 3D Maldives Resorts Brochure at ITB Berlin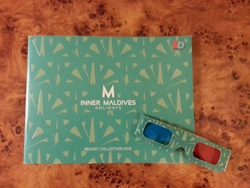 Male, Maldives, March 05, 2013 --(
PR.com
)-- Inner Maldives Holidays announces the launch of first ever Anaglyph 3D tourism hotels brochure of the Maldives at ITB Berlin this year. This is perhaps the first of its sort on print format that's been used for promotion of Tourism industry anywhere.
ITB Berlin which is considered the grandest stage of the tourism and travel trade in the World, which is held from 6-10 March in Berlin, Germany; thus the perfect setting for such a launch.
Anaglyph 3D is the name given to the stereoscopic 3D effect achieved by means of encoding each eye's image using filters of different (usually chromatically opposite) colors, typically red and cyan.
Inner Maldives Holidays will also be seen throughout the show in Berlin as this year the company is a major sponsor of the main marketing collaterals of ITB Berlin 2013.
Inner Maldives Holidays is one of the most celebrated travel companies in the Maldives. The organisation has won World Travel Awards for "Indian Ocean's Leading Travel Agency" in 2007 and 2009. Inner Maldives Holidays was the very first travel agency in the Maldives to receive a World Travel Award. The company has been featured in the New York Times as "one of the nation's biggest tour companies" (04/01/2005) and is also highly recommended by Lonely Planet.
Having direct contracts and allotments with over 80+ properties in the Maldives, and given its strength in bulk purchasing, the company is able to provide rare opportunities and incentives to push numbers especially from new emerging markets.
Inner Maldives Holidays will be represented at its grandest scale at ITB Berlin this year.
Contact
Inner Maldives Holidays
Abdulla Ghiyas
9603006886
www.innermaldives.com

Contact