Stanley Beaman & Sears Architects Receive Design Awards for Adamsville Regional Health Center
Stanley Beaman & Sears has recently won two awards for their Adamsville Regional Health Center project. The Southeast Region of DBIA awards First Place: Public Sector, Building Under $15 Million. Construction team partners include Whiting-Turner Contracting Company and Hermosa Construction Group. The 2013 AIA/AAH Healthcare Design Awards Program, Category A: Built, Less than $25 million. The project will be exhibited at the 2013 AIA National Convention and Expo in Denver, Colorado.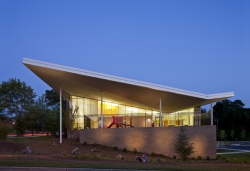 Atlanta, GA, March 08, 2013 --(
PR.com
)-- Adamsville Regional Health Center is a 34,000-square-foot structure on a 4-acre site in the Adamsville suburb of Atlanta. The new facility provides a primary care clinic, a behavioral health clinic, a dental clinic, childcare facilities and a workforce development center to area residents, and serves as a catalyst for positive community change and future neighborhood growth.
The design-build fast-track project was completed in only 275 days with a construction cost of approximately $5.5 million. Specialized design features include a standing-seam clamp over the facility's sloped roof to identify major entries and serve as a beacon to the public, as well as house mechanical equipment and a centralized, double-height circulation lobby. An integral part of the structure's design, the sloped roof presents a dynamic element that is both protective and welcoming to the surrounding community. To maximize the building's efficiency, all of the services successfully share the same support and staff spaces.
Inspiration for the exterior and interior design was derived from the communal folk art of quilting and the social and aesthetic traditions of the African-American community. Also an inspiration were the collage paintings by celebrated Atlanta artist Radcliffe Bailey, known for piecing together found objects, archival photographs and historic imagery with jazz-like effects. These inspirations led to the idea of how the building's exterior materials could reflect the arrhythmic yet unified patterns of both quilting and improvisational music resulting in randomized patterning devices used in the exterior metal wall panels and the punched window locations. Other project participants included Board of Commissioners Vice Chair Emma Darnell, West End Medical Center, the Fulton County Office of Cultural Affairs, and other city and community members. For more information on Adamsville Regional Health Center, visit http://1.usa.gov/NN82qE.
Quotes:
"Few issues of our time are more pressing than healthcare. The manner in which your project demonstrates this is a design issue, both in the way we shape our communities and how we build those facilities. A broader appreciation of what architects can contribute to the health of our communities is needed-and thankfully, projects like yours are closing the knowledge gap. With your commitment to excellence in design, you have elevated the public awareness of the importance architecture plays to elevate the quality of life in our communities," Mickey Jacob, FAIA, 20113 AIA President
About Stanley Beaman & Sears:
Stanley Beaman & Sears is an award-winning architectural, interiors and graphics firm based in Atlanta. Founded in 1992, the firm focuses on projects for healthcare, higher education/research and the arts. Often recognized for its ability to create architecture that captures powerful ideas, it is set apart by its focus on exceptional client service, as well as its ability to collaborate, attention to detail, and rigorous vetting of technologically-rich solutions. The shared vision of Stanley Beaman & Sears principals includes creating structures that represent civilization's great institutions. Working nationally and internationally, with an appetite for innovation and a collaborative working style, the firm has established a track record for forging creative partnerships with clients to explore and achieve their facility goals. Stanley Beaman & Sears has been named one of Atlanta's Top 25 Architectural Firms by the Atlanta Business Chronicle, and has received recognition among Atlanta's Fastest Growing Women-Owned Firms. The work of Stanley Beaman & Sears has been featured in an array of publications, including Architectural Record, Contract Magazine, Modern Healthcare, Healthcare Design and The Wall Street Journal. For more information, visit http://www.stanleybeamansears.com/.
Contact
Stanley Beaman & Sears
Amy Blanco
404-524-2200
www.stanleybeamansears.com

Contact