Size Does Matter, and It's 24 Inches
PolycreteUSA President Bruce Anderson introduced the largest pre-assembled insulated concrete form (ICF) available in the US or International markets. Extended width ICFs are particularly useful for insulated foundations. The Polycrete ICF for building concrete walls up to 24 inches thick will revolutionize commercial construction by saving time, effort and money.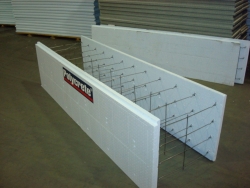 Richmond, VA, March 19, 2013 --(
PR.com
)-- "Size does matter," said PolycreteUSA President, Bruce Anderson. "I thought the twelve inch wide Polycrete® Big Block™ was the biggest insulated concrete form in the world until our guys in Canada showed me their latest invention. It's a Big Block™ ICF with a twenty-four inch core. I'm not kidding, you can now make an ICF wall with 24" wide concrete using Polycrete® Big Block™. You can't do that with any other ICF."
Insulated concrete forms (ICFs) are forms for making cast in place concrete walls where the form stays in place permanently and becomes the insulation for the building. Polycrete® forms are made from steel reinforced expanded polystyrene panels. Polycrete® ICFs speed the construction process because they save steps for the contractor, which saves money for everyone.
"This monster is going to save contractors a lot of time," Anderson said. "We've seen plenty of cast in place foundation walls that are too wide for our standard stable of Big Block™ products, but those days are gone. Now you can forget about hauling around heavy traditional forms, setting them up, stripping them down, cleaning them and trucking them back to the yard every time you have to make a wall that's over a foot thick."
As building codes evolve, this system is particularly useful for foundation walls that have to be insulated or under-pinning projects where a permanent, stay-in-place form makes the job simpler.
The two foot wide forms only weigh about thirty five pounds for every sixteen square feet of wall so workers can be much more productive. They're fully assembled but fold flat for easy shipping and storage. A steel wire mesh inside the EPS panel makes it so strong you can feel confident that it won't bulge or break under the weight of all that concrete. And the general contractor doesn't have to use an insulation sub-contractor either because the form is the insulation.
Sustainable construction at its best, Polycrete® ICF walls easily achieve insulation values of R26 and the insulation is continuous. That eliminates air infiltration and thermal bridging. Actual performance results in HVAC costs 30% to 40% lower than conventional masonry walls. Polycrete® system contributes to over 30 LEED points. STC rating of 57 on a typical 6" wall makes for a very quiet building.
"We're getting this information out to all of our AIA architect friends and the entire design/build community as well," Anderson said. "Turnkey price is normally less than traditional cast in place or concrete block once you consider you're getting the structural wall, fully insulated and ready for finishes. It includes ICF forms, concrete, rebar and all labor."
"You know what else those guys up in Canada came up with?" Anderson asked. "Eighteen inch tall Big Block™. So now we have three heights: 12", 18" and 24". Which makes the installer's life that much easier because there's less cutting in the field. Polycrete's manufacturing flexibility allows us to make any width you need, from 5-1/2 inches all the way up to 24 inches."
Big Block™ is replacing reinforced masonry because it eliminates labor and materials for:
· Most structural steel
· Insulation
· CMU block
· Interior stud wall
· Air barrier – except at transitions
· EIFS foam
Polycrete® technology is embraced by state and federal government as well as the private sector. ICF advantages are recognized by organizations such as ASHRAE, AIA, FEMA, NAVFAC and Veterans Administration among many others. Polycrete® meets or exceeds all requirements of the International Construction Code.
Widely used for student housing, barracks, K-12, Net-zero energy, mission critical data centers, hotels and medical centers. PolycreteUSA even helped the US Army Corps of Engineers to write their service-wide specification for ICF construction. "That was a big deal," Anderson said. "The Army Corps released their spec last year and that makes it easy for design/build firms to choose the system."
"If you need to build an energy efficient structure that stands up to Mother Nature, and you need to build it fast and efficient," Anderson said. "You need to build with Polycrete®. And with a 24" thick Big Block™ it can be a burly building."
Contact
PolycreteUSA, LLC
Bruce Anderson
800-570-4313
www.PolycreteUSA.com

Contact