Nurses Get Help Preparing for RN Palliative Care Certification Exam
CSU Institute for Palliative Care and San Diego Chapter of the Hospice and Palliative Nursing Association offer on May 4 and 5 a weekend study course.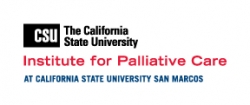 San Marcos, CA, March 21, 2013 --(
PR.com
)-- To advance the quality of care provided to Californians with serious or chronic illness, the California State University Institute for Palliative Care at CSU San Marcos and San Diego Chapter of the Hospice and Palliative Nursing Association are helping area nurses obtain palliative care certification through an RN Hospice and Palliative Care Certification Preparation Course May 4-5 at Scripps Memorial Hospital in La Jolla.
The program is specifically designed for registered nurses working in hospice or palliative care and will cover all of the required competencies and the typical examination content for the Certified Hospice and Palliative Care Nurse (HPNA) Examination. Participants will attend review sessions, work with case studies and interact with nursing experts on a variety of topics, including communication; advance care planning; goals of care; pain and symptom management; psychological, cultural and spiritual issues; resource management; grief and loss; caregiver support and education; interdisciplinary/collaborative practice and professional practice issues.
"As organizations like the Joint Commission, the Centers for Medicare and Medicaid Services and others look to health care organizations to deliver palliative care professionals with recognized certifications, nurses working in palliative care are recognizing the value of taking the HPNA RN Certification Exam," said Institute Executive Director Helen McNeal. "We're pleased to partner with the local HPNA chapter to present this course and help nurses prepare for the June 1-30 certification exam period."
The two-day program will take place 8 a.m. to 5 p.m. May 4-5 at the Shaetzel Conference Center in Scripps Memorial Hospital, located at 9890 Genesee Ave. in La Jolla. Registration costs $275 and $255 for Hospice and Palliative Nurses Association members.
For more information or to register, please visit
www.csupalliativecare.org/professionals
.
The Institute's programs are funded in part by the California HealthCare Foundation and Archstone Foundation.
About the CSU Institute for Palliative Care
The CSU Institute for Palliative Care is America's first statewide educational and workforce development initiative dedicated to palliative care. The Institute offers professional development and continuing education courses designed to enhance the skills of current and future health care professionals, as well as programs to build palliative care awareness in the community. Courses offered initially at the Cal State San Marcos campus will be part of a model for palliative care workforce development and community awareness that will be available to other interested campuses in California and beyond. To learn more about the CSU Institute for Palliative Care, visit
www.csupalliativecare.org
.
Contact
(W)right On Communications
Julie Wright
858-755-5411
http://www.wrightoncomm.com/

Contact