MaleSurvivor and Leading Child Abuse Advocates Denounce NBC TODAY Show
A group of leading advocates for survivors of sexual abuse have issued a statement denouncing NBC News' decision to air interviews of convicted child rapist Jerry Sandusky made by controversial filmmaker John Ziegler.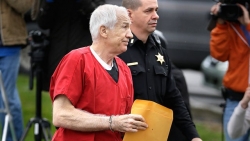 New York, NY, March 25, 2013 --(
PR.com
)-- MaleSurvivor Executive Director Christopher Anderson issued the following statement:
"This morning, NBC News and TODAY show Executive Producer Don Nash have collaborated with independent filmmaker John Ziegler to air portions of prison interviews recorded by Ziegler with convicted child rapist Jerry Sandusky. By airing these interviews, and capitalizing on the ensuing storm of controversy unleashed by this announcement, NBC and Zielger have chosen to give national exposure for a second time to a child rapist whose indisputable guilt on over 40 counts of sexual abuse of children was unanimously agreed upon by a jury of his peers.
"These interviews have no independent news value, and will publicize and quite likely provide additional funding to Ziegler's independent project. It should be noted that members of the Paterno family have disavowed any connection to this project. Airing these clips will re-victimize some of the survivors of Sandusky's crimes. It also serves as highly unethical harassment by Sandusky of his victims. Further, it serves to give credence to Ziegler, who has publicly proclaimed his doubts that Sandusky's behavior constituted sexual abuse against victim #2.
"Survivors of sexual abuse struggle with shame, stigma, and are often shoved to the sidelines. It is the stories of survivors of sexual abuse that should be told in the wake of abuse scandals. Sexual abuse is a public epidemic, with more than 20% of the US population reporting having experienced some form of sexual abuse during their lifetimes. Survivors suffer from far higher rates of anxiety, depression, dysfunctional interpersonal relationships, heart disease, substance abuse, and suicide. However, time and again these facts and the survivors' voices are marginalized and drowned out in the rush to give platforms for criminals and abusers to pronounce their innocence.
"NBC News had an opportunity to promote healing by supporting survivors of abuse and using this time to share information that would help survivors heal. Instead they have needlessly harmed many survivors and placed more children at risk by giving attention to a controversial filmmaker and a convicted child rapist."
Christopher Anderson, Executive Director,
MaleSurvivor
Contact
MaleSurvivor: National Organization Against Male Sexual Victimization
Christopher Anderson
917-524-8934
www.malesurvivor.org
Or
Curtis St. John email: cstjohn@malesurvivor.org, phone: 914-481-2930

Contact