Bouncer Depot Announces Release of 3 New Commercial Grade Inflatable Water Slide
Bouncer Depot is a manufacturer of commercial grade inflatables based in the USA that is constantly adding new models to its inventory.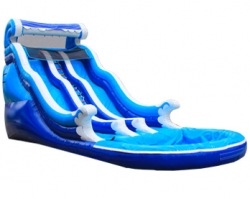 Los Angeles, CA, March 25, 2013 --(
PR.com
)-- BouncerDepot.com, the bounce house mega site, has announced the release of three new
water slides
. This is the direct-manufacturer, so that all customers are receiving wholesale prices. The company claims to be the largest manufacturer of USA Made bounce-houses, inflatable water slides, commercial bounce houses, water slides, and jumping balloons.
This Reporter has scoured the web to find a supplier with a larger selection of USA Made
commercial inflatables
, and could not find any. BouncerDepot.com boasts a huge selection, and backs everything with a 3-year warranty. Management points out that their Vinyl is Lead-Free. There is also a lowest price guarantee. These folks have all the bases covered. Bouncer Depot has been in this business for 16-years, and is constantly improving their products.
The introduction of new
custom inflatable structures
really livens things up, and this new product release is no exception. The new "Sport Arena Inflatable Combo Jumper With Pool," "Single Lane Curly Water Slide," and the "Compact Backyard Water Slide," mean one thing... fun. Inflatable structures first made their debut in the 1960's in Louisiana. Ever since then, they have become very popular all over the world. It is hard to imagine any public event, community events, birthday or holiday without those colorful, noisy and big inflated monsters.
Many folks can remember the old "slip & slides" of yesteryear. They bring back memories. Kids of today have access to the next generation of inflatable water slides. They are larger, faster and more colorful than the original toy. These are great for fund-raising events, backyard barbeques, or any event where kids will be present. Bouncer Depot has reams of customer testimonials describing what a success their events and parties were thanks to Bouncer Depot. There is no down-time with these units because not only are they made in the USA for quality and durability, but they also come with a repair kit for emergency repairs in the field.
BouncerDepot.com also manufactures obstacle courses, as well as custom inflatable structures. Inflatable obstacle courses have really caught on at Corporate Events. These units are designed to accommodate multiple parties simultaneously. Adults enjoy them as much as the kids. The company reports that there are plenty of options available: Bungee Runs, Jousting Arenas, Obstacle Tunnels, Velcro Walls, Inflatable Sports Games, are just some of them.
Many people rent these structures, but purchasing one can make sense if it will be used throughout the year. Corporations and event planners are investing in them for a great savings in rental fees.
There is also an incredible opportunity to actually buy an Inflatable Structure and rent it out for a great ROI. Folks can have their own business for a minimal investment. These bounce houses, and other inflatables actually do their own advertising. Once they are inflated, it is hard not to notice them.
About Bouncer Depot
Bouncer Depot
is a manufacturer of inflatable play structures, jumpers, slides and obstacles. All products are made in the USA and come with 3-year warranty. To check all the products and find out more visit us at www.BouncerDepot.com.
Contact
Bouncer Depot
Steve Johnson
877-577-7119
www.BouncerDepot.com

Contact