President and CEO of Professional Options Named to International Top SMB 150 List
Doña Keating selected among worldwide SMB IT channel influencers.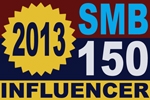 Seattle, WA, March 25, 2013 --(
PR.com
)-- Professional Options President and CEO Doña Keating was recently named to the SMB 150 Channel Influencers List. The annual contest, which is a collaboration between SMB Nation and SMB Technology Network, produces a list of 150 most-influential SMB members.
Keating joins a group of esteemed colleagues who were chosen during a two-phase voting process. In the initial stage, channel community members voted on 450 nominees at SMB150.com. Following the community vote, a panel of industry experts consisting of Harry Brelsford (SMB Nation), Karl Palachuk (Great Little Book Publishing Co., Inc.), Josh Peterson (MSP Score), Dave Seibert (IT Innovators) and Dan Wensley (Level Platforms) evaluated each nominee based on a pre-established rubric. The community vote accounted for 40 percent of each nominee's overall rating, with the expert panel's decision contributing the remaining 60 percent.
"Building Professional Options has been one of the most rewarding challenges of my life," Keating said. "I'm thankful to my colleagues, partners and clients for recognizing its success, along with everyone involved with making the company what it is today."
In addition to leading a successful global consulting practice, Keating was a founding member and president of West Sound Technology Association (WSTA). Under her leadership, the organization experienced significant growth in membership, sponsors, reach and strategic partnerships across the region, state and nation. Keating has tirelessly advocated for technology innovation, economic and workforce development, education and entrepreneurship - and made a tremendous impact in the region and the United States as former chair of the region's High Tech Committee for Kitsap 20/20 Regional Action Plan, chair of the Subcommittee on Private Sector Last Mile Solutions for Kitsap Economic Development Alliance and co-chair of Kitsap Regional Telecommunications Committee (which led to broadband up and down the county).
While leading WSTA, she helped form partnerships with Microsoft, Technology Alliance, Washington Technology Industry Association, Washington Technology Center, Prosperity Partnership, MIT Enterprise Forum of the Northwest, ITEC, SMB Nation, Culminis/User Group Support Services and Shidler Center for Law, Commerce and Technology at University of Washington. As president and CEO of Professional Options, managing director of K2 Strategic Solutions and SVP/COO of Keating Consulting, she has used her IT, business and policy consulting expertise to help an international clientele achieve results and consistent success.
Other efforts include representing the Seattle Center Foundation's The Next Fifty as an ambassador; providing strategic microfinancing and technology advice to Grameen Foundation's Bankers Without Borders; creating curriculum and best practices as former chair of Olympic College's Business Management Advisory Committee; participating in Technology Alliance's Washington Science & Technology Roundtable, USA Today's Small Business Panel and the Prosperity Partnership; and spearheading the inclusion of WSTA as a Technology Alliance Associate.
Keating and her fellow SMB 150 influencers were invited to attend the SMB 150 Awards Gala on May 4, during SMB Nation's Spring Conference at the Microsoft Conference Center in Redmond, WA. The event is hosted by SMB Nation and SMB Technology Network and sponsored by BlackBerry. Each SMB 150 winner will receive a personalized award plaque, recognition in the SMB Nation magazine and other media outlets and a new BlackBerry Z10 device.
"I encourage everyone in the SMB channel community to join with me in recognizing and celebrating the winners of this year's SMB 150," said Harry Brelsford, Founder and Chairman, SMB Nation. "Each individual whose name appears on this esteemed list has strived to ensure that our SMB community is one that will continue to thrive and succeed. I am beyond excited to toast them at the awards dinner on May 4 in Redmond."
For more information about Keating and Professional Options, visit professionaloptions.com and donakeating.com. For more about SMB Nation, visit SMB150.com.
About Professional Options
Professional Options is a management consulting firm which provides strategic solutions for businesses, organisations and governmental agencies around the globe. For more information, visit www.ProfessionalOptions.com.
About SMB Nation
SMB Nation is a media integration and events community, targeted at the small and medium business (SMB) channel partner/reseller/consulting/VAR community. SMB Nation spreads the knowledge of SMB technology trends through its conferences, books, print magazine, online services, and worldwide seminars and workshops. As an active participant in the technology community, SMB Nation has a long history of enthusiastic advocacy and evangelism. The SMB Nation tribe exceeds 54,000 followers worldwide. For more information, visit www.SMBNation.com, www.CloudNation.co and www.Telephonation.com.
About SMBTN
The SMB Technology Network (SMBTN) has its roots in partner groups focused on IT solutions & services for the SMB (Small Medium Business) space. Their focus includes Windows platforms including SBS (Small Business Server). In 2005 they combined a series of independent IT Professional groups in Southern California and around the U.S. into a single umbrella group, consolidated as SMBTN. Each group holds monthly meetings to discuss the latest IT business trends. In addition, the group has partnered with Microsoft at various events, further penetrating the SMB space. The SMBTN group continues to expand into new regions, chapters and members across the U.S. For more information, visit www.smbtn.org.
Contact
Tollefson Creative Solutions
Rodika Tollefson
(253) 273-0802
www.rodikat.com
https://www.facebook.com/writer.editor.Rodika.Tollefson

Contact