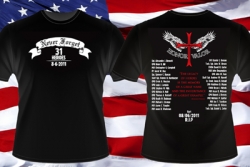 Wichita, KS, March 28, 2013 --(
PR.com
)-- American Hero T Shirt is a well known retailer of patriotic apparel. The company has a large collection of patriotic shirts, hoodies, tote bags and other apparel. The company recently launched its
31 Heroes
collection consisting of T shirts, hoodies and tote bags.
The launch commemorates the supreme sacrifice of 30 US army personnel and one US military dog in Wardak province, near Kabul on June 8th, 2011. The Boeing CH-47 helicopter that was transporting the personnel crashed after being hit by a rocket propelled grenade, killing all on board. The army men were en route to providing support to a group of Army Rangers who were engaged on the ground by hostile forces.
Apart from the 31 Heroes, there were seven Afghan forces and one Afghan civilian interpreter also on board. This brings the death toll to 39 lives. Some of the US army's finest gentlemen soldiers lost their lives in the disaster, sending shock waves through the military establishment; President Barrack Obama also mourned the incident.
31 Heroes apparel is American Hero T Shirts way of mourning the tragedy and honouring the valiant heroes. All the apparel - the T shirt, the hoodie and the tote bag are available in black only.
A spokesperson from the company said that $5 from every sale will be donated to a military charity to benefit US soldiers. The names of all the 31 heroes are printed on the apparel. The apparel is made from the best quality material, as is the norm at American Hero. The 31 Heroes shirts and hoodies are also available in different variations, and have a short quote by William Shakespeare printed on them. Their
31 Heroes video
can be seen on Youtube.