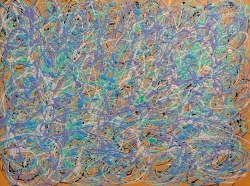 New York, NY, March 29, 2013 --(
PR.com
)-- Greg Herzog is an artist, former sub four minute miler and conditioning specialist in NYC and Fairfield County, CT. He has worked with competitive athletes, as well as individuals from the ages 5-94, and has made studying human performance his life's work.
This extensive experience led to the development of "AXIS CORE®," a mathematical equation to predict and change behavior, as well as a Quantum Reaction Theory: COLOR CODING DNA®, to help better understand the foundation of the makeup of an individual in regard to performance.
Jesus of Nazareth commonly referred to as Jesus Christ or simply as Jesus or Christ, is the central figure of Christianity and regarded as an important prophet of God in Islam.
What would an individual or subject look like if they were represented by a color or a series of colors?
We know what people look like in human form, on MRIs and brain scans, but what would they look like if they were represented by color?
To answer this question, Greg Herzog created COLOR CODING DNA® a Quantum Reaction Theory using a geometric mathematical equation, where X# of points represents the makeup of a subject and each degree of expression within the context of each point is color coded and weighted accordingly.
Below are the colors and characteristics for Jesus Christ Good Friday painting derived from Mr. Herzog's mathematical equation used in his trademarked COLOR CODING DNA® process.
Violet: Sensitive and Compassionate
Lt Blue: Observant
Gray: Eccentric
Turquoise: Unconditional Love
Beige: Logical and Disciplined
Violet: Empathetic
Turquoise: Compassionate and Pragmatic
Violet: Healing Skills
Black: Transformational
Tan: Inventive
The COLOR CODING DNA® painting process is strikingly similar to the way patterns in Nature evolve. Since its discovery in the 1960's, chaos theory has experienced spectacular success in explaining many of Nature's processes. A mathematical system can be designed to generate COLOR CODING DNA® trajectories, where the degree of chaos can be tuned. Many natural chaotic systems form fractals in the patterns that record the process.
For more of Greg's artwork and information go to www.vip-artfair.com