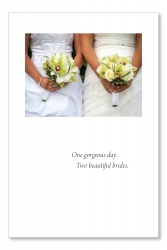 Champaign, IL, March 29, 2013 --(
PR.com
)-- Another sign that society is embracing same-sex marriage is the mainstreaming of gay wedding cards. In January, US card maker Cardthartic introduced two designs clearly intended to celebrate the marriage of two women or two men. The company said the new designs were in response to the persistent request of an increasing number of the 2,000-plus gift and specialty stores that carries its line.
"Cards are one of those things that closely mirror societal changes," says the publisher's founder and creative director Jodee Stevens. In the company's 600-design product catalog, in a story alongside the new gay marriage designs, she wrote, "Around six years ago I was standing at the front counter in the great gift store Regatta in Naples, FL, when an elderly and obviously frequent customer stepped up to ask for help finding, 'a wedding card for a favorite gay couple of mine.' Since then, we've paid close attention as more and more of our reps and retailers made a point of requesting such 'love is love' designs."
Stevens says, "Our response back then was to publish a design featuring the photo of two flowers with petals interlocking, and the message, 'To your lifelong Union of love & laughter. Congratulations.' While capitalizing the word Union gave some indication of where the world was headed, these new designs are far more overt." As she describes the 2013 editions, "A color photo shows two elegant brides -- pictured from their shoulders to their knees -- both women in traditional white, each holding her own bouquet. The cover reads, "One gorgeous day. Two beautiful brides …" Inside: "Many more years of love and joy. Congratulations."
It's the company's custom to include on its card backs dedications to those who inspired Stevens to create the respective design; the dedication on #93660 reads, "Celebrating Karen & Deb, Astrid & Anne, Crystal & Janet …"
Retailers in 24 states have already picked up these new designs released just two months ago; eight of those states prohibit same-sex marriage. Perhaps not surprising, sales are strongest in Massachusetts, the first state to legalize gay marriage (in 2004). The gay wedding cards' sales in MA are more than double that of the next highest state, Washington, which permits gay marriage. Interestingly, WA is followed closely by Minnesota and Colorado, which have not legalized same-sex marriage.
Stevens, who happens to be straight, closed her catalog piece introducing the new designs by writing, "Then there's the story of Dear Abby receiving a letter from a reader complaining that a gay couple had moved in across the street. 'What can I do to restore the quality of the neighborhood?!' The wise columnist's advice: 'You could move.'"
Editors note: Founded in 1992, Cardthartic Cards & Comforts makes and sells cards, candles and pillows to upscale card and gift stores throughout the states and Canada. The company has been at the forefront of a number of significant trends: Its products have always been "proudly made in the USA," the cards were from day one printed with soy ink on recycled paper, the pillows and candles also made of all-natural materials. With a 2012 sales increase of 16%, Cardthartic is one of the leading small independent card publishers, and among the less than three percent of woman-owned US businesses that earn more than $1 million in annual sales. In addition to its 2,000 retail outlets, the company's products are available at www.cardthartic.com and by calling 800-814-8145.
Cardthartic Cards & Comforts
Contact: Carissa Bretz
carissa@cardthartic.com 305-343-9890