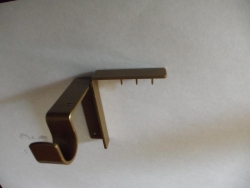 Cumberland, RI, April 01, 2013 --(
PR.com
)-- Not every person is a do-it-yourselfer. With that mantra in mind, think about the last time you were faced with the challenge of hanging multiple sets of curtains. To some, it's just a nuisance project, to others, well; they are still not on speaking terms with their drills.
If you belong to the later group, you will be happy to discover the Kwik-Hang Curtain Hardware TM line. T & J Distributors have patented a design that eliminates the need for screws, nails, drilling or measuring to install your curtains. If you have wood molding around your windows, you can save a ton of time and effort on your next curtain hardware installation project.
Spokesperson Judy Burr states, "By fusing the pins to our curtain rod brackets and adding our patented design; we have made it possible to hang more than 10 sets of curtains during half-time of a football game." A time frame many men can relate to no doubt. Judy goes on to say, "The speed and ease with which our products can be utilized is one thing, however; most of our customers marvel at the fact that there is no visible damage to the face of the walls or woodwork."
If you would like to see a demonstration video and view the products just go to their web site at
www.kwikhang.com