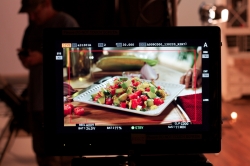 Miami, FL, April 02, 2013 --(
PR.com
)-- New 30-second and 15-second Spots Are Now on The Air
Kreative Kontent announced today the company has collaborated with the Florida Department of Agriculture and Consumer Services to handle their latest video advertising campaign. Shot in a studio in South Florida last month, the campaign showcases Florida seafood, fruit and vegetables as simply the best choice for deliciously fresh food.
Using a team of talented food artists, Kreative Kontent focused on encouraging viewers to use and appreciate Florida-grown products in an honest and entertaining way. Directed by Fro Rojas, the spots are slated to begin airing on regional programming starting this week.
"We are delighted to be working with Fresh From Florida, and showcasing what Kreative Kontent can do with our very talented team when it comes to shooting with food," said Debbie Margolis-Horwitz. "Fro Rojas did an amazing job with directing these spots, as he always does, we all look forward to seeing our hard work come to life on the small screen.
For more information and to view recipes that will be featured in the spots, please visit www.freshfromflorida.com.
About Kreative Kontent
South Florida-based Kreative Kontent (www.kreativekontent.com) was founded in 2010 by award-winning producer Debbie Margolis-Horwitz and is quickly becoming one of the leading content creation companies in the country. Known for its unfailing honesty and work ethic, Kreative Kontent expertly produces feature films, broadcast commercials, television, digital productions, events, specialty product and marketing fulfillment programs that have been lauded for their high-quality delivery in a quirky, sophisticated voice. With production offices in South Florida, Kreative Kontent also shoots in Los Angeles, New York and Latin America and is in a unique position to reflect the ever-expanding face of media in the Americas.
The company, in association with Animo Grande Productions and RCN Comerciales, has recently cast Jason Alexander ("Seinfeld") and Josie Loren (Miami native and star of ABC Family's "Make It or Break It") in their new animated children's television series Annie Sunbeam And Friends. The series will be produced in Bogota, Colombia in both English and Spanish with RCN Comerciales. Oscar Azula is directing the pilot episode.
For more information on Kreative Kontent, please visit www.kreativekontent.com.
Follow Kreative Kontent Facebook www.facebook.com/kreativekontent
Twitter @kreativekontent
Linked In http://www.linkedin.com/company/kreative-kontent
Media Contect:
Abbi Johnson/Aida Phillips | Velocitas O: 305.854.6999
abbi@velocitas.com | aida@velocitas.com