Brennan Rock & Roll Academy Opening Raises $1.2 Million
Gene Simmons Makes Surprise Guest Appearance During Celebrity-Packed Events.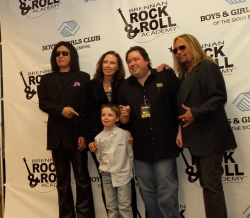 Sioux Falls, SD, April 03, 2013 --(
PR.com
)--
Chuck Brennan
rocked the house when he hosted a week-long series of grand opening performances for the non-profit Brennan Rock & Roll Academy in his hometown of Sioux Falls, South Dakota. The
Dollar Loan Center
CEO and former music industry executive enlisted his famous friends to help raise more than a million dollars for the Boys & Girls Club of the Sioux Empire.
A surprise guest appearance by KISS frontman Gene Simmons capped the week-long series of grand opening performances by some of entertainment's biggest names. Simmons joined Mötley Crüe's Vince Neil and RATT's Stephen Pearcy during their show with rock tribute band HAIRBALL Saturday. "That was a night to remember," said Brennan. "Three of my all-time rock heroes were together on the same stage and all donated once in a lifetime packages for the auction that raised over $100,000 in a matter of minutes. Gene even invited four people to his house for dinner and scored $20,000 for the
Boys and Girls Clubs
."
The
Brennan Rock & Roll Academy
hosted performances for music and comedy fans alike. The band Night Ranger, rock legend Alice Cooper and comedian George Lopez were just some of the iconic entertainers at the events, which were attended by sellout crowds of only 300 in what Cooper described as "the coolest, most intimate and exclusive room he has ever played."
"It was an incredible week of entertainment to not only raise money for the academy, but to also showcase this beautiful facility and all the things the kids will get to learn here," said Brennan. The executive is the founder and namesake of the Brennan Rock & Roll Academy, which offers Boys and Girls Club members from first grade to age 17 a place to learn about rock and roll. "It allows kids to interact with each other," said Brennan. "They learn to play instruments, vocals and about the band environment. I grew up six blocks from here and was a Boys & Girls Club member. It is a great feeling to share my love of rock and roll with future generations."
Brennan's vision was echoed by Alice Cooper, who performed at the grand opening and operates
Alice Cooper's Solid Rock Foundation
in Phoenix. "If you take one kid out of a gang and get him involved in a guitar or bass or drums… you don't just change that kid, you change the neighborhood," said Cooper.
Cooper performed with Robby Krieger of the DOORS and a Who's Who of the rock industry including Eric Singer and Tommy Thayer of KISS, Sebastian Bach and Joey Allen of Warrant. "It was an incredible evening," said Brennan. "Fans got a once-in-a-lifetime experience, the performers had a great time and we raised $1.2 million dollars for the children of Sioux Falls."
Rock and roll fans also enjoyed an exclusive performance by one of America's favorite rock bands, Night Ranger. Jack Blades and crew not only gave fans the performance of a lifetime, but stayed an extra 4 days and wrote a new song at the academy while they were in town.
Comedy fans were treated to an evening with two of the country's brightest comedic minds: George Lopez and Louie Anderson. The pair was joined by Rick Harrison of the hit reality series "Pawn Stars." Anderson, who grew up not far from Sioux Falls in Minnesota, said the academy will help kids that may not otherwise have a safe place to go outside of school. "It's a gamble," he said. "This is the chance you take. You make something like this happen in hopes that one of these kids can fix a lot of the stuff that is wrong with this world."
Lopez echoed Anderson's sentiments. "That's really the ultimate success," he said. "To grow up, to be a good person. The Boys & Girls Clubs have that rich and deep history… so combining that with music and giving kids an opportunity to do that and learn is a great thing."
The Brennan Rock & Roll Academy will provide the first ever free music education program for children in the Boys & Girls Clubs, focusing on Rock & Roll instruments and vocals.
Brennan developed the academy and made a $250,000 initial donation with a commitment to financially support the program for the next 20 years. "It is a $3.6 million project, which will run the academy for 20 years," said Brennan. "We greatly appreciate the support of these amazing entertainers, their fans and the community in helping to make the Brennan Rock & Roll Academy a fun and safe place for the children of Sioux Falls."
Brennan has a lifelong love for Rock & Roll. Before founding Dollar Loan Center, Brennan opened and operated one of the largest Rock & Roll concert halls in the Midwest, The Blitz Ballroom. His mother, Judi Brennan, brought a photo from home to show Gene Simmons of him and Chuck in 1992 when Brennan promoted the show while KISS was on their "Revenge" Tour.
Brennan's company now operates 80 locations in South Dakota, Nevada, Utah and California and has given hundreds of thousands of dollars to youth charities like the Boys and Girls Clubs.
This year, the company was named a "Best Place To Work" In Southern Nevada by Vegas Inc magazine. Dollar Loan Center has received several industry awards from their peers for charitable work. For more information, visit
www.dontbebroke.com
.
Contact
Brennan Rock & Roll Academy
Sarah Thornton
605-274-7625
brennanrockandrollacademy.com

Contact