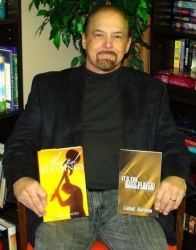 Talladega, AL, April 10, 2013 --(
PR.com
)-- Cabot Barden, singer, songwriter, and author, will be doing a book signing at the Aljerald Powers Building next to the Winterboro High School in Winterboro Alabama from 9 am. to 4 pm on April 12, and from 9 am. to 3 pm. on April 13.
Barden's two books are: "It's The Bass Player," which is endorsed by his friend, famous author Clive Cussler, and Barden's other book, "Mixed Blessings," which won the Pinnacle Book Achievement Award for Literary Fiction for 2012. Both books are available through Amazon.com, Books A Million, and Barnes and Noble. An audio version of Mixed Blessings will soon be available as well as both books are presently available in ebook.
The story line of these books is the ongoing saga of a young pop musician that plays with a band in the seventies, that stands on the threshold of being famous. "It's The Bass Player" is a fun ride through the lives and loves of Toby Martin and his best friends in his band. "Mixed Blessings" is a continuation of the first book, but with a bit more serious twist to it. Barden is now working on a third book that should appeal to anyone. He says it has a ghost story, comedy, a murder, a home invasion, romance, suspense, and a lot of good times.