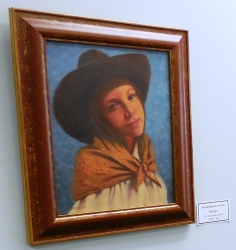 Minneapolis, MN, April 12, 2013 --(
PR.com
)-- Western Artist Carleton McCambridge is closing his art exhibit this April 19th at the EXIT Realty Metro Gallery just south of the Walker Art Center. In honor of his work, the Gallery will host a farewell to the artist networking event Thursday April 18th from 5:30-8 p.m. This event is free and open to the public.
McCambridge has achieved his life long dream to paint and be recognized as a Western Artist. His art is filled with the allure of the western landscapes and its Native cultures. He focuses his painting on capturing beauty in form and color. Whether the subject is an animal, still life, person or place, he gives the viewer a sense of harmony and peace.
McCambridge states: "Oil painting nourishes my soul. Although I appreciate all things artistic, I am drawn to art that is peaceful and pleasing, not shocking or challenging. My paintings are my reaction to life's hardships and if it borders on the sentimental or romantic, well, that's OK." Carleton and his wife, Liz, reside in both Minneapolis and the mountains southwest of Bozeman, Montana.
The Gallery is an integral part of EXIT Realty Metro. McCambridge's art was the eighteenth exhibit in the Emerging Artist Series where EXIT honors local artists and opens their offices to share this art with the surrounding community. EXIT Realty Metro is a full service real estate office specializing in residential sales, bank owned sales, commercial sales and leasing throughout the entire metro area. Broker/ Owner Carson Brooks opened these offices in 2009. Agents within the agency have over 100 years of experience and are known for their community service and promotion. The agents of EXIT Realty Metro are available to assist in all real estate needs. To contact Brooks, call EXIT Realty Metro at 612.238.1099 or www.ermetro.com