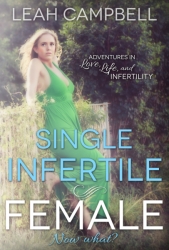 Anchorage, AK, April 22, 2013 --(
PR.com
)-- "First comes love, then comes marriage, then comes a baby in the baby carriage."
That's how the story goes, right? We all grow up hearing the same fairy tales, and imagining the same futures. But what happens when the future you have always pictured for yourself, is ripped away before you ever even get the chance to pursue it?
That is the question
Single Infertile Female
begs to answer.
From the mind of author Leah Campbell, this debut memoir follows a woman who donates her eggs to infertile couples while in college, only to begin contemplating the family she would like to have for herself shortly thereafter. Deciding it is time to grow up and settle down, she moves to Anchorage Alaska, where she meets and falls in love with the man she is sure she is going to build that family with. After being diagnosed with an aggressive case of endometriosis however, Leah is told her time is running out and that she is on the cusp of losing her ability to conceive. Confronted with the now or never gauntlet, and a man who just isn't up for being along for the ride, Leah decides to tackle infertility on her own.
Her story provides moments of unadulterated hilarity, alongside the inevitable ache of pure devastation. All of this is mixed in with Leah's attempts at dating amidst the baby making. Follow her journey as she selects a sperm donor, falls in and out of love, and faces the irony of once being an egg donor herself – a woman who has helped to give children to others, but who now may not be able to have any of her own. The ups and downs are typical of any modern tale, but the perseverance and ability to grow are what makes this a must-read. On her quest to motherhood, Leah faces adventures in love, life and infertility; learning quite a bit about herself in the process as she begins to question:
Do love and marriage always have to come first? And if they don't, can you still keep looking for them, even while actively pursuing that baby in the baby carriage?