WINAICO Ranks Highest Among Peers in PTC Ratings WSP-260P6 Outperforms Well-Known Competitors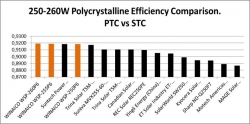 Southampton, PA, April 19, 2013 --(
PR.com
)-- On April 8, 2013, Go Solar California published an updated PTC rating list and out of almost 11,500 eligible modules rated, WINAICO high performance modules have ranked highest among their peers. The WINAICO 250W, 255W and 260W polycrystalline modules have earned PTC ratings of 229.6, 234.3 and 239.0 respectively. They outperform well-known competitors like Trina, Canadian Solar, Mage, SolarWorld and Suniva.
Sascha Rossmann, Vice President of Global Sales for WINAICO says, "We have seen a significant spike in sales for our high performance modules. We credit our success to our use of robotics in manufacturing and our unrivalled German engineering." WINAICO manufactures all high performance modules in Taiwan and all engineering is headquartered in Germany. Jing Yu, Vice President of WINAICO USA says, "Our module is the perfect solution for the fast growing U.S. solar market. Our PTC ratings are proof that we offer one of the highest performing modules in the world."
WINAICO USA will introduce their monocrystalline 60 cell WSP-280M6 QUANTUM module in coming months.
About PTC Rating
The Go Solar campaign established an industry standard with the creation of the PTC rating program and has become universally recognized for providing a more real world measurement of solar panel performance. PTC ratings or Photovoltaic Utility Scale Application Testing Conditions were initiated by the California Energy Commission via the California Go Solar program to measure a solar module's power output in the real world. California solar installers pay close attention to PTC ratings since they can apply for rebates on photovoltaic installations built using modules successfully listed in the eligibility program. A higher PTC rating indicates higher actual on-site solar energy production per watt installed, which leads to faster return on investment. PTC stands for Photovoltaic Utility Scale Application Testing Conditions. The list of all eligible modules can be found here:
http://www.gosolarcalifornia.ca.gov/equipment/pv_modules.php
.
WINAICO – Manufacturer and system supplier
WINAICO is a manufacturer of high-performance crystalline photovoltaic panels as well as provider of photovoltaic systems. As a subsidiary of Win Win Precision Technology, WINAICO manufacturers all modules in Taiwan with robotics. WINAICO is an independently operated subsidiary with its international headquarters in Taiwan and own subsidiaries and branches in the United States, Asia and Europe.
Press contact:
WINAICO Deutschland GmbH
Marketing Europe: Katharina Link
Tel.: +49 7933 700 30-16
Fax: +49 7933 700 30-22
E-mail: k.link@winaico.com
www.winaico.com
WINAICO USA
E-mail: usa@winaico.com
Contact
WINAICO USA
Maria Verros
215-550-4787
www.winaico.com

Contact